Hello all,
After thinking long and hard Iíve decided to sell my Dwarf army to clear shelf space for a new one. I've used the army for quite a while and had lots of fun building and playing it, and I've won my fair share of Best Painted Army awards with them. A 2000 pt army of it has been featured in UKWD 292 (USWD 291).
But now it's time to build a new Dwarf force in anticipation of the new army book. That means you now have a chance to own the whole of Kadrin Drakk, and not just the part that was featured in White Dwarf. That means a full 4000 pt Dwarf army, painted to a high standard.
As patrons of Bugman's you have the first option of buying it, as I'd like to see them end up in good hands. If the buyer is a member of these forums, he or she will also be entitled to my custom rank: Lord of Kadrin Drakk.
The army has been slowly built over a number of years and includes enough troops and characters to build a 4000 pt Dwarf army, so you have plenty of choice when it comes to building an army for a normal game.
The auction also includes movement trays finished with snowy edges for the whole army, the display base on which it was featured in White Dwarf and an objective for capture scenarios. I will also include the plasticised army lists I used at tournaments if requested.
Interested buyers can contact ME at: stijssen@gmail.com
The army includes: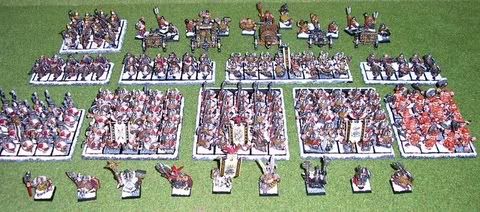 Characters
Thorindil Grimbeard
himself. This is the model I've used as my general most of the time. He is equipped with a great weapon and is based on the Ungrim Ironfist model. The crest was removed and replaced by a Dragon to symbolise his rulership of Kadrin Drakk.
Leif Thorinsson
. This is my other Lord model, that I use when I want to arm my general with a hand weapon and a shield. Leif is Thorindil's brother and serves Kadrin Drakk with distinction. The model is a conversion of King Alrik, with the left arm repositioned to hold a shield.
Durin Ironmane
. A long time veteran, Durin bears the Royal Standard in battle. This conversion is based on the limited edition battle standard, with a converted banner.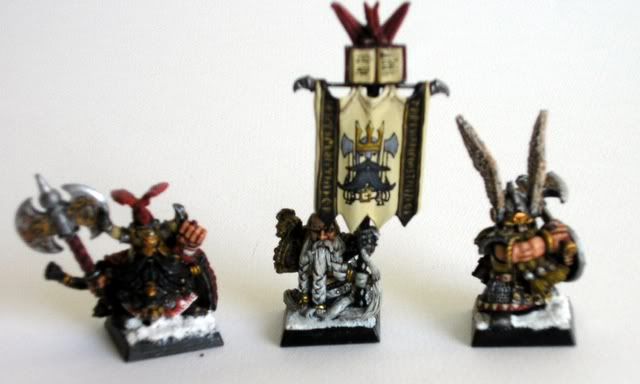 Runesmiths
. Kadrin Drakk is protected from evil magics by three Runesmiths. Two of them are armed with great weapons, and one with a hand weapon. Each of them carries a shield.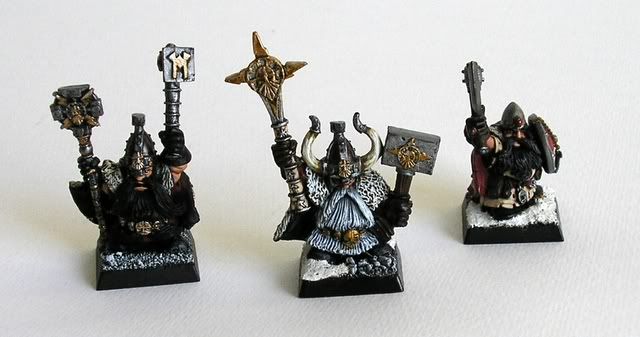 Thanes
. Smaller expeditions will be led by the Thanes of Kadrin Drakk. They are armed with great weapons and shields.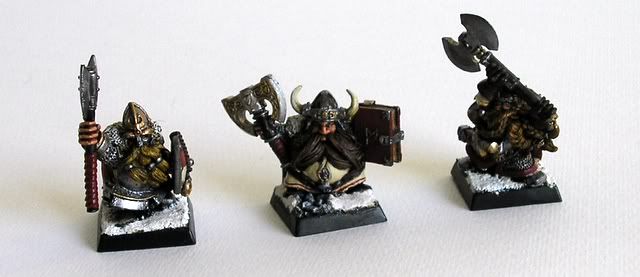 Units
Warriors
.
The first line of defence of Kadrin Drakk is formed by the Warrior Clans.

There are three units of 25 Warriors in the army. Two of them are armed with hand weapons and shields, the other with great weapons. Each unit includes a full command group.
Clan Drakk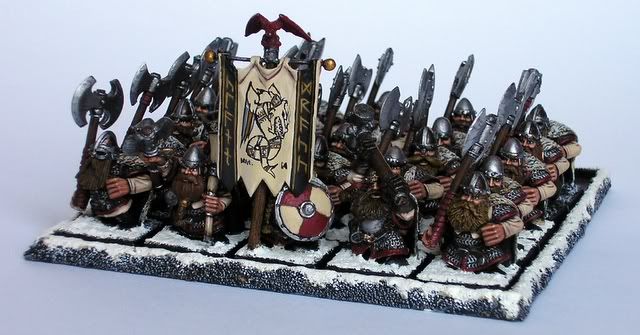 Anvil Guard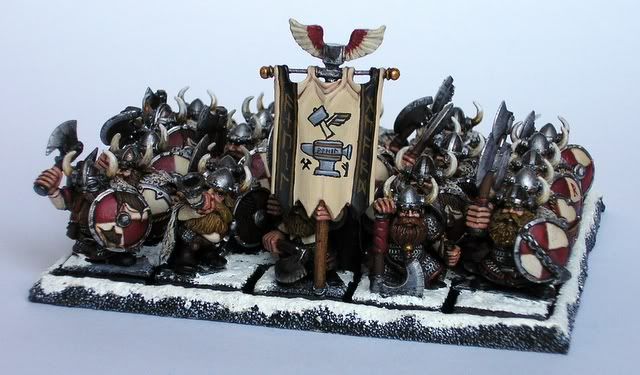 Brewers' Guild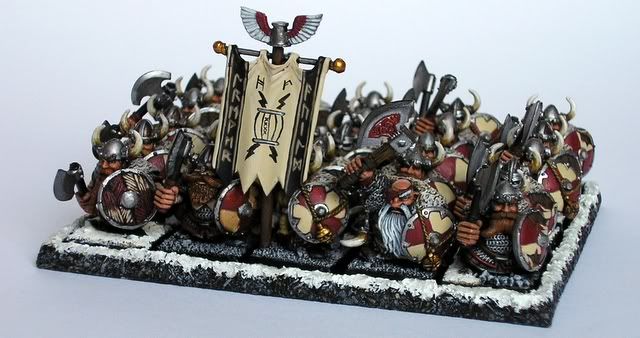 Each warrior unit has been converted to convey the Norse Dwarf theme. Each warrior has been given a greenstuff fur cloak: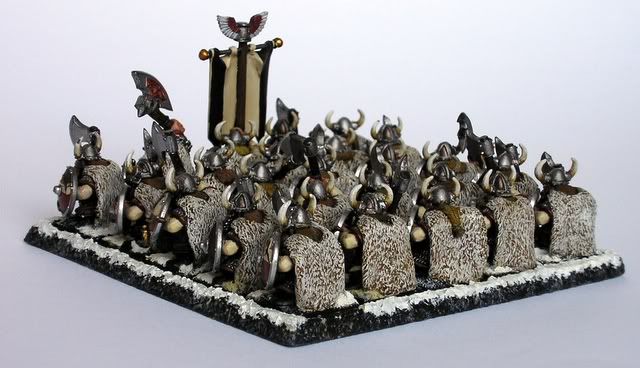 Crossbows
The Stonemasons' Guild provides long range firepower to the army. It consists of a unit of 16 Crossbowdwarfs, armed with shields. The unit includes a full command group.

Thunderers
What selfrespecting Dwarf army would leave their hold without a solid base of Thunderers? Kadrin Drakk is no different, and it includes a full complement of 3 units of 10 Thunderers armed with shields. In addition, there are 2 champion models with a brace of pistols, for a total of 32 Thunderers.

Miners
Every Dwarf hold has an extensive labyrinth of mines. Sometimes they will come up to fight in battles as well. Kadrin Drakk includes a unit of 16 of them, with a full command group: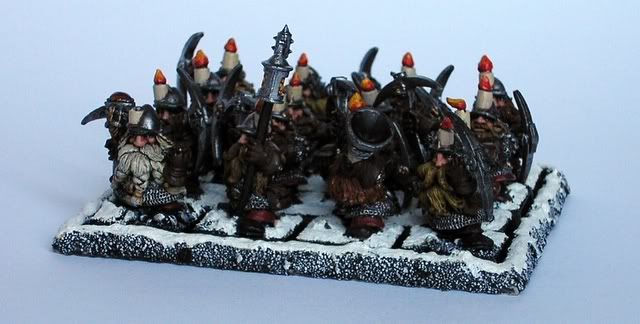 Ironbreakers
When the Miners are fighting elsewhere, the Mines are protected by the Ironbreakers. The army includes a unit of 20, with full command.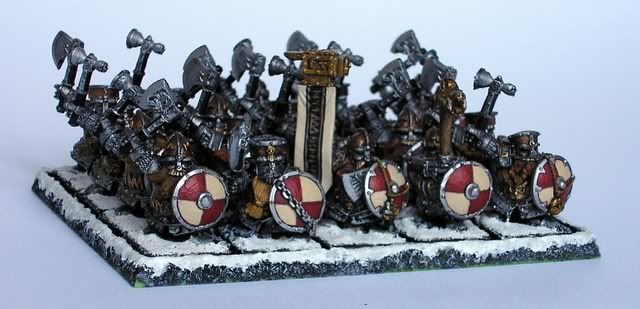 Slayers
Kadrin Drakk includes a unit of 20 Slayers, led by two Giant Slayers: Borri and Smakki.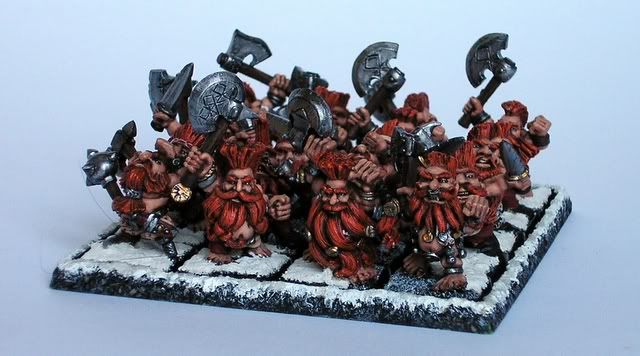 Warmachines
Kadrin Drakk has a total of 5 warmachines at its disposal. A deadly Flame Cannon, a Stone Thrower, a Cannon and 2 Bolt Throwers.