So quite a while ago whilst I was at university I bought myself a large number of EM4 plastic Dwarves having seen on their website some links (now gone I believe) to someone converting a whole army of Orcs (filthy greenskins) from 3 figures. Taking this inspiration I decided it was worth copying for dwarves. Then I forgot about them....
Until this weekend when I found myself revisiting the brewery and remembering the vast hordes of Dwarves awaiting to be brought to the field. So the dwarves in question are in 3 poses: 2-handed weapon, spear or crossbow.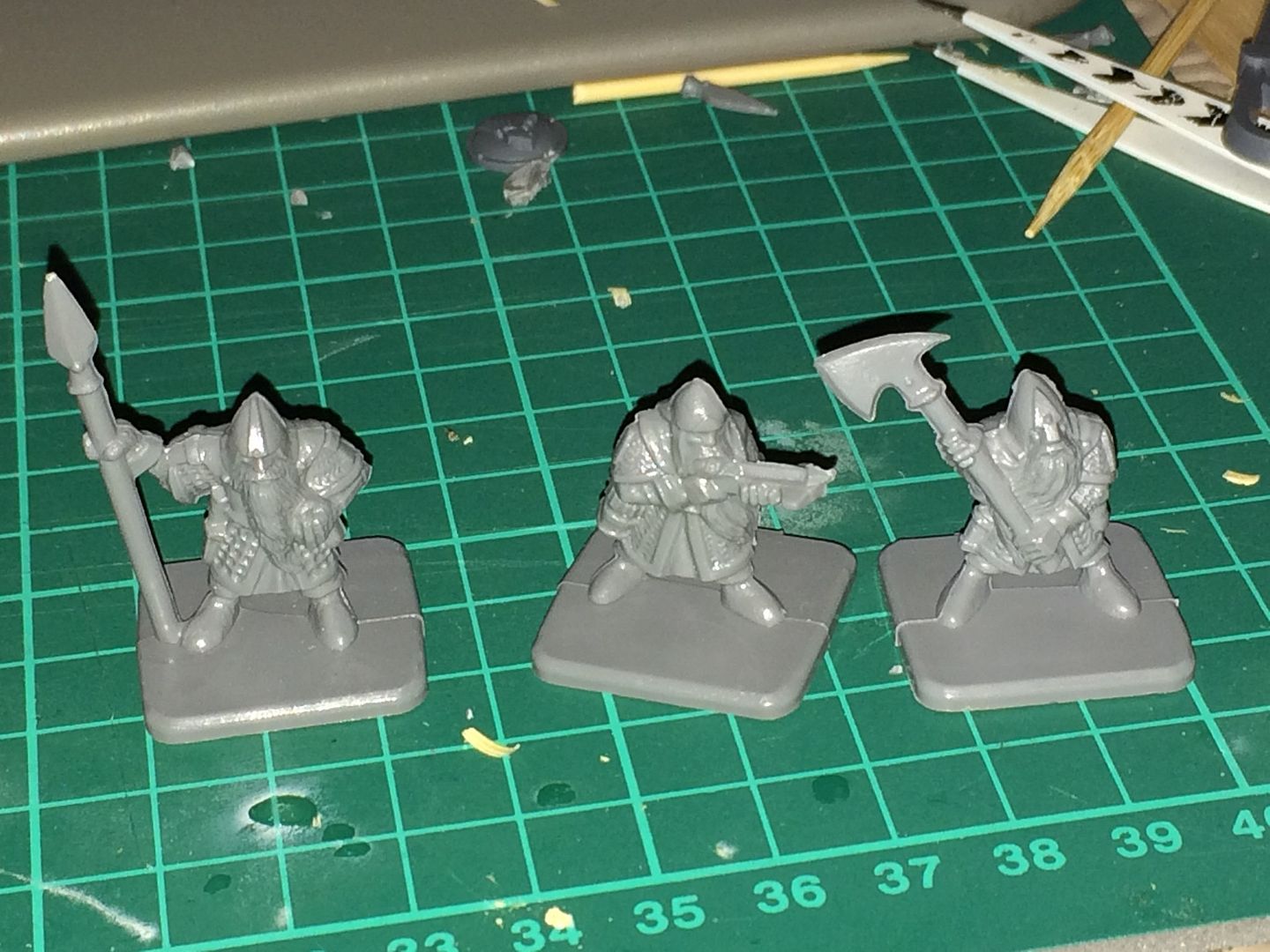 So I decided that I would challenge myself to build an entire army from these dwarves. The Army in question was written in 6th Edition (me and my dad have had an ongoing 6th edition campaign for probably over 10 years now so I will use them in that) the list is 500pts and is as follows.
Runesmith
Shield+Gromril
17 Dwarf Warriors
Hw+Shield
Stand+Musician
11 Thunderers
Shields
Cannon
So with the goal set I started raiding the bitz box. I had decided that I would start with the cannon. So armed with a pair of wheels, a tube and some coffee stirers this is what I came up with.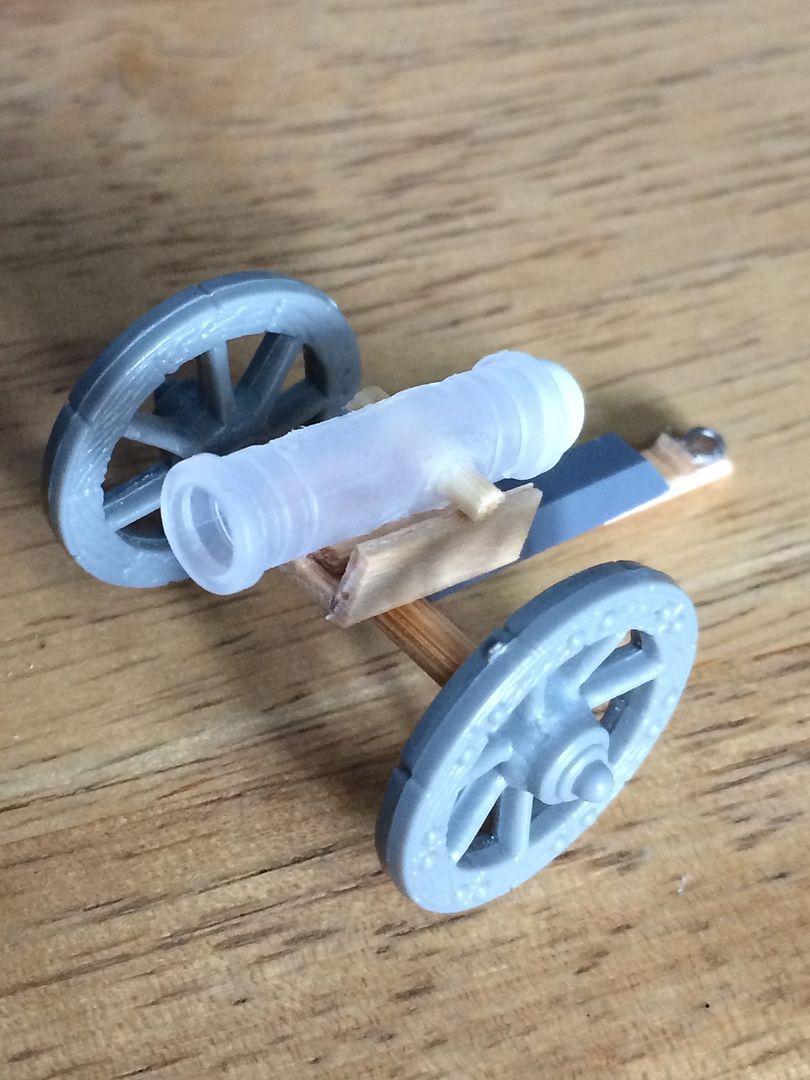 A gun is of course no use without it's crew so it came to the point of converting these monopose miniatures into some (hopefully) dynamic models each with a different job. I think the crew came out rather well and I am quite pleased with them.
So my next task was to construct the warriors to defend the gun repurposing various weapons from some dwarf warriors sprues (and a few coctail stick swords) I set about giving them different weapons and through a single cut in the hand I was able to change the poses of some of them. The real trouble was the musician I knew I could convert one to carry a drum but I didn't have any drums. So instead I took inspiriation from the Night Goblins of Skull Pass (filthy greenskins) and I equipped my musician with a gong.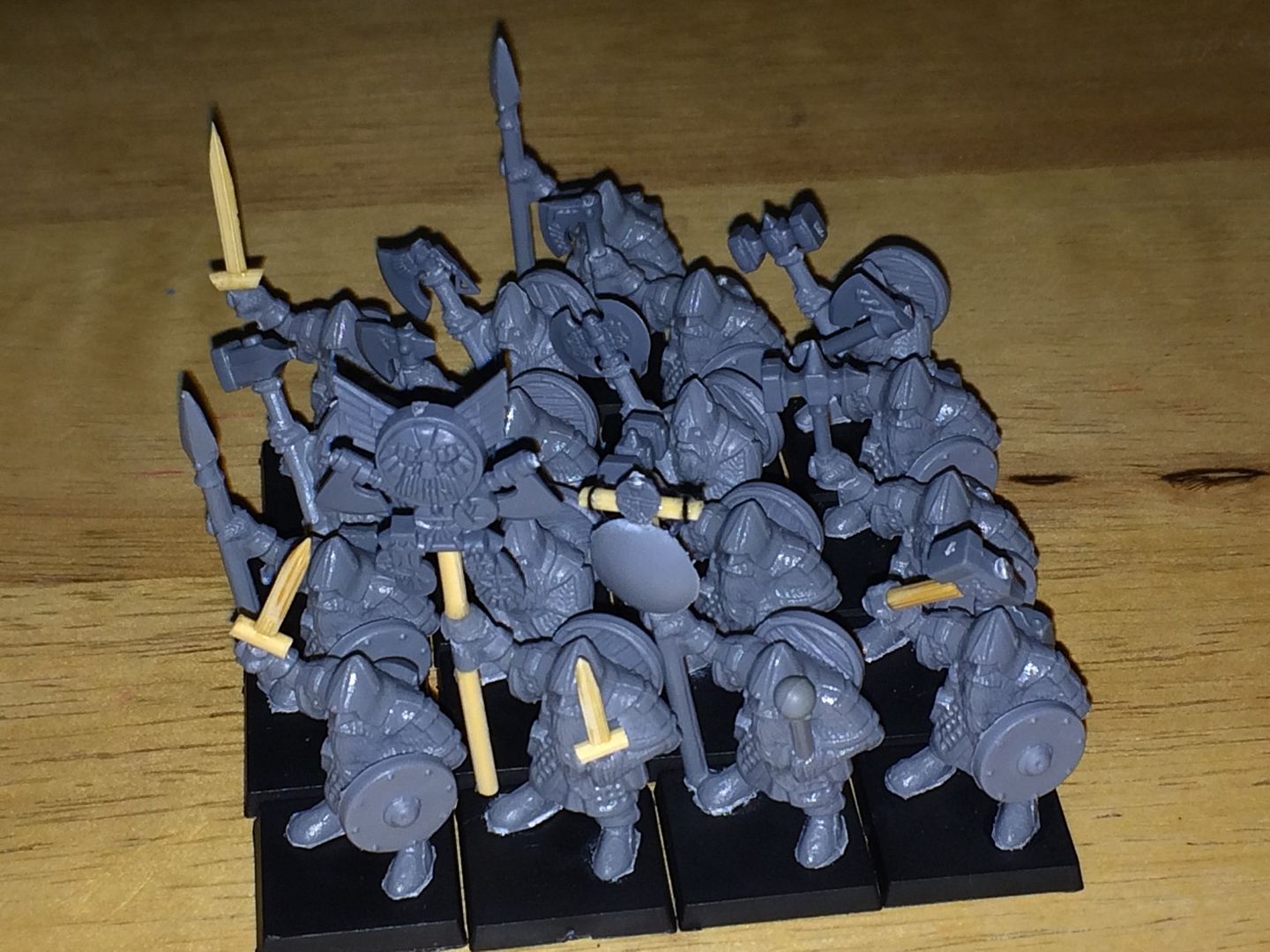 So two units so far looking good together.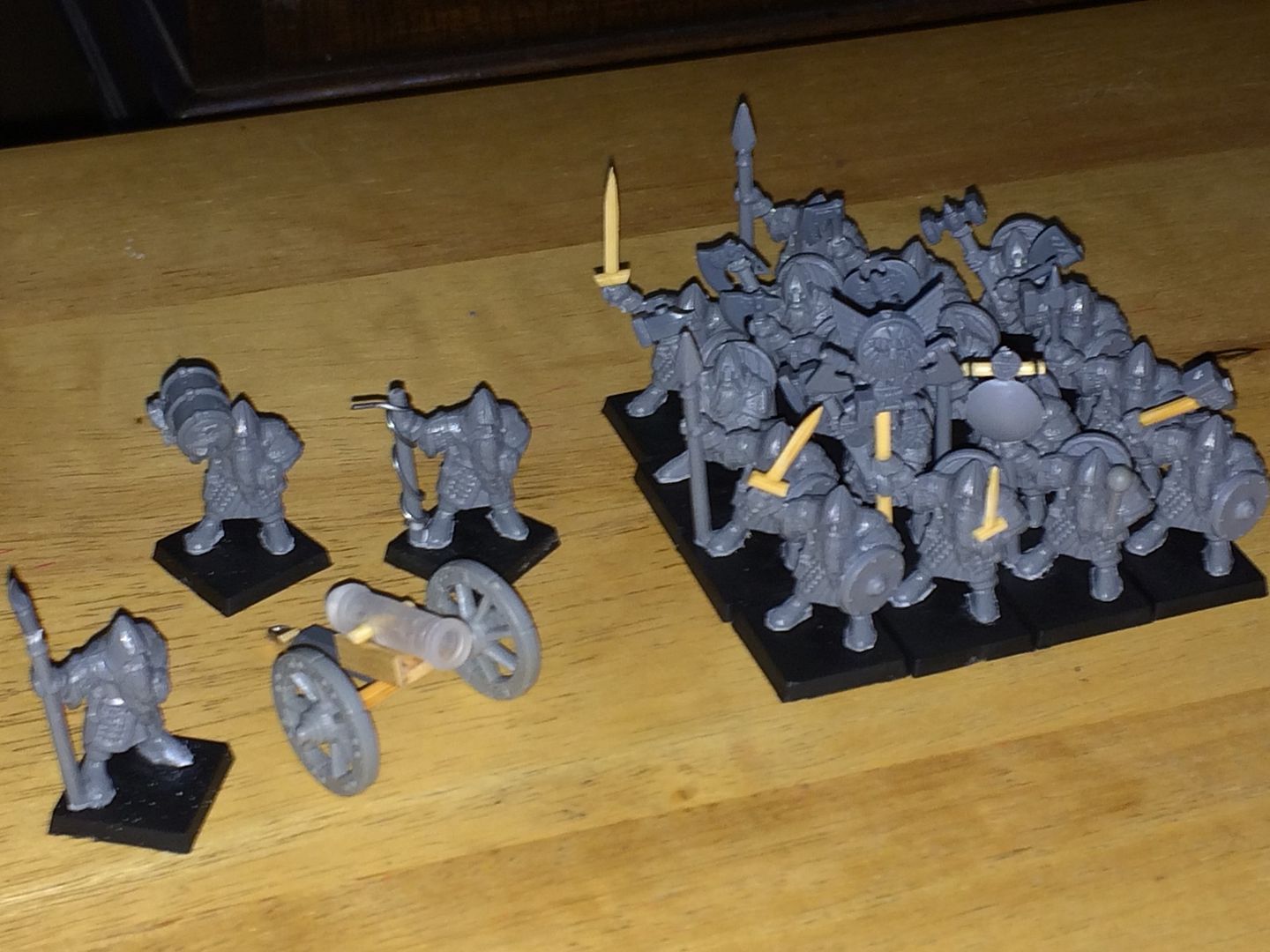 Next up thunderers. Although I could have used quarrellers instead and not bothered with any conversions, I didn't really like the arms of these crossbows they just seem a little stumpy and perhaps in future I will convert some quarrellers using wires to make more effective looking crossbows but for now I shall be using thunderers. This was a fairly simple conversion, I just shaved off the arms of the crossbow and the quarrel then added a barrel using a cocktail stick, a few of them are different poses (using the spear one) holding their rifles rather than firing for a little variety. So here they are: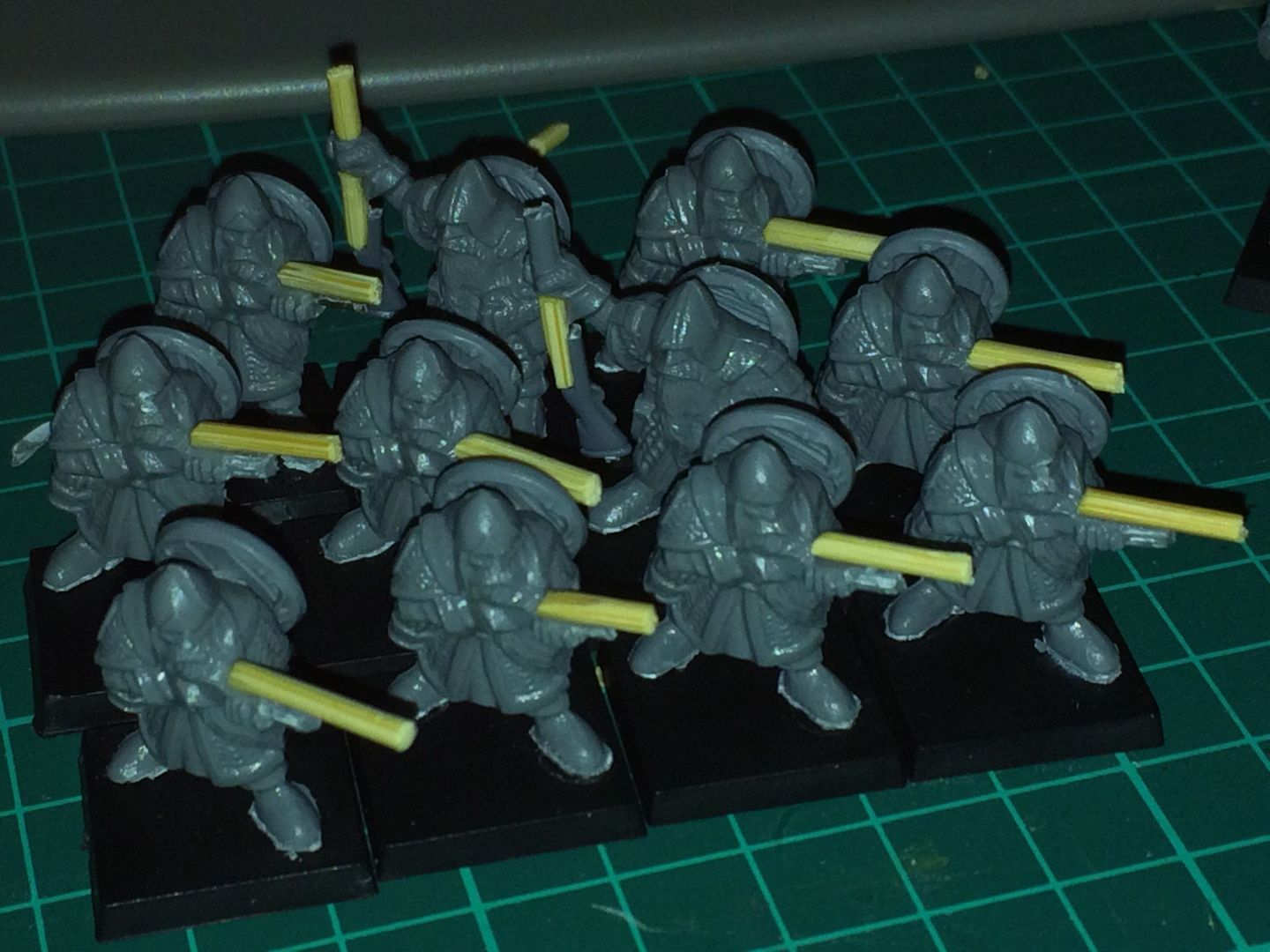 Now with both missile elements complete and some warriors to defend them we have some resemblance of an army:
So still to do is the Runesmith and I will work on expanding them to 750pts then probably work on some kind of backstory for the Runesmith possibly in search of some artifact and has hired some engineers guild fighters for an expedition? Not sure yet.
Any constructive critisism is welcomed (especially if you have tips on scratch building weapons without sculpting them from putty (I'm awful at that)). I hope to keep updating this as they progress and I hope to be painting them soon. Thanks for reading and have an ale on me if you got this far!
Edited by Thurgrim, 25 March 2020 - 05:07 PM.