Hi,
I just started playing Warhammer in april, and it was pretty clear I wanted Dwarves for my first army. It's still very incomplete, and most units are stil WIP. The throng story is also a WIP I guess
.
So here it is, I'll start with the finished units:
My friend who thaught me Warhammer also gave me the Dwarf half of his BfSP box, which boosted my army from 16 warriors to something almost significant.
So here are the thunderers. Yeah, they're purple. I wanted to kind of align them with handgun dwarfs from a comic I plan to make.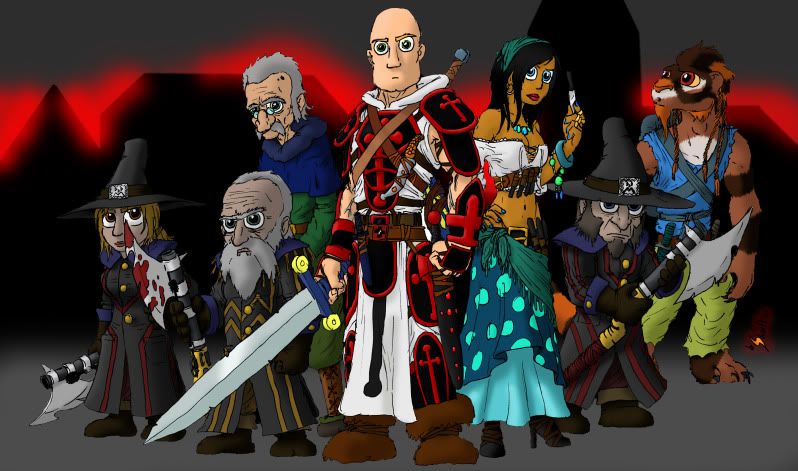 Apparently I didn't bother to look at the picture again before painting. There is actually very little purple about them :s.
On to the bigger gun:
Also purple. In the setting of the comic, only one dwarf clan possesses the secret of making gunpowder. So all the firepower comes from the same grim region around a volcano, named Eldberg. All the dwarves there are pretty depressed. You don't care, so about the model: I just stuck some shields and runic stuff on the BFSP cannon, the book, dragon heads and the orc head are from an AoW Berserker box.
I hate it when people just put random runes, so these runes have meaning. It's a fairly simple instruction manual in elder futhark.
For slayers I use AoW Berserkers, beautiful models, hope my painting does them honour.
I thought giving them all orange hair would be boring, but this may have turned out a little too chaotic...
Banner is from GW Warriors.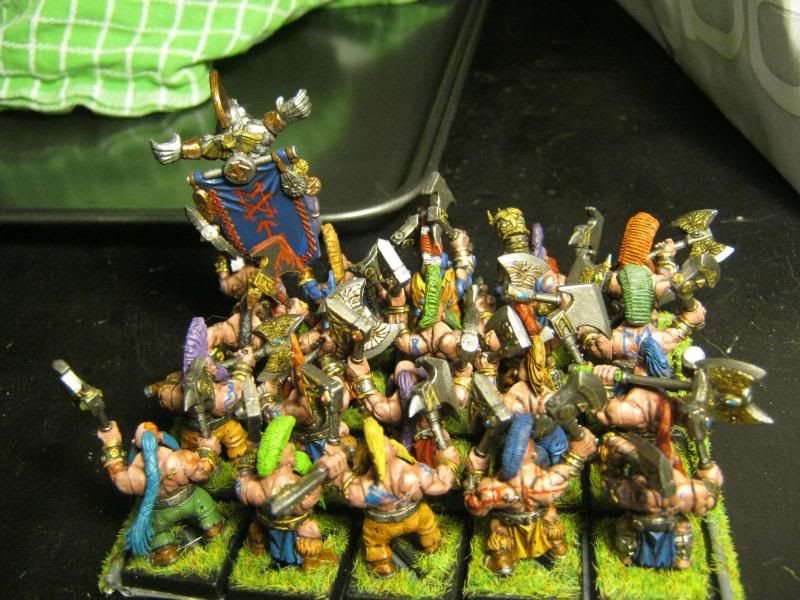 And a little close-up:
Next unit is half finished: the BFSP models still need some highlighting, the others (with sand on their bases) are done.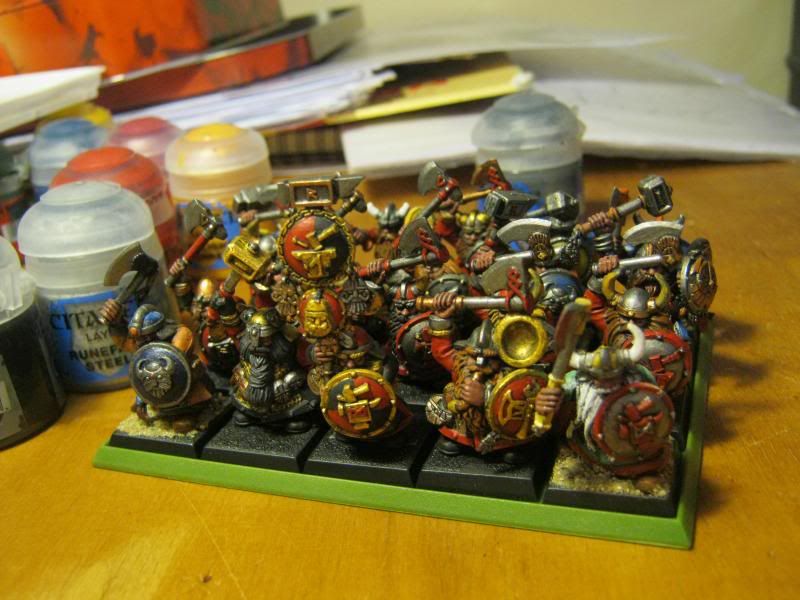 I guess the story will end up being something about how the anvil clan went to war and here and there some other Dwarves joined the fun...
The colors are not because I'm from Belgium, they just seem like a cool combination and good for a dwarf army.
My first warrior box, I made half with HW and shields, and half with GW. The shielded ones are the odd ducks in the above unit. The others are below, now reinforced by two unpainted warriors from my next box: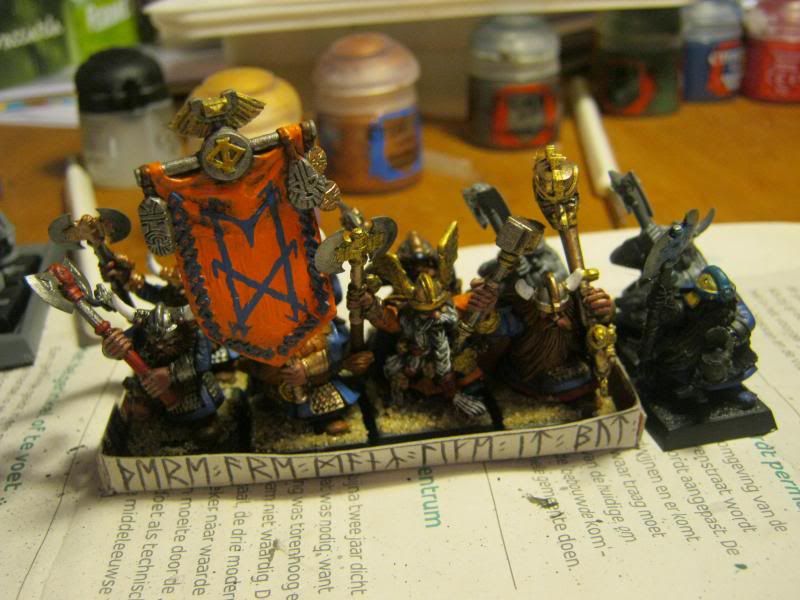 They are probably still gonna get shields.
The text on the cardboard trey says "there are many like it but". I guess you can figure out what it says around both corners. I prefer using futhark runes because it took me over a year to learn them, so I'm not going to get into the warhammer runes, except for the army logo: apparently my first name can be spelled with just two runes, so there.
Next up are the first seven members of what will become a 30 strong Longbeard Ranger horde, led by the Skull Pass Thane:
Thought it'd be cool to give them masks for being longbeards, and shields for not getting shot, and backpacks (from the miners) for being rangers, and some of them got extra axes for throwing.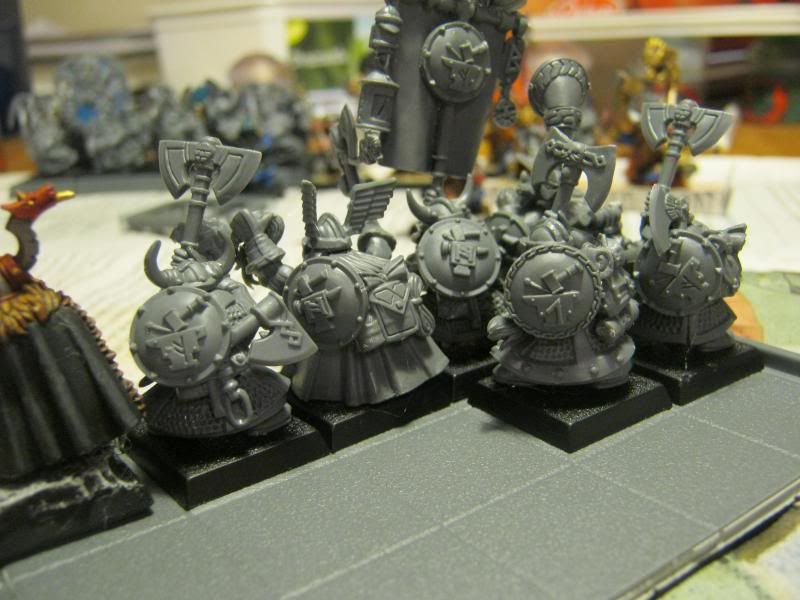 Then: miners.
8 from BFSP, 2 from a miner box. With steamdrill, because the first time I used them, they never came to the surface. Don't know what I'll do with the remaining 8 yet... Mainly bought the box to do what everybody seems to do: Mine Cart Anvil of Doom!
The runes are carved in a movement tray and should be more visible when painted (I marked them first in black ink, then changed my mind, wrote the new runes with red ink, then stupidly carved the black ones anyway, it now says: "with one blow my magic will grant victory", then I ran out of room...
Some shields and other stuff to cover up the rough areas.
Anvil guard are pretty straight forward warriors, they will get tiny thunderer shields when my battalion box finally arrives, also, three mini-shields will serve as runes to strike upon the anvil.
The runesmith has the body of a miner, head of a warrior champ, miner arms with the detonation device as hammer (srsly, when I opened the box I first thought it was a very intricate hammer). Some runes are stuck on his shoulders, and the braid is from the AoW Berserker box.
There, that's what I have so far. Will update when I make some progress.
Further plans:
-when my battalion box finally arrives (trouble with payment means I'm waiting for over a month by now), I will complete the LB horde, 16 thunderers will be fun, I'll have an extra cannon and build an organ gun with a mine cart.
-I plan to get 20 CD Infernal Guards + 3 command, and use them as ironbreakers, because the actual models are really expensive and not all that cool imo. Two leftover models (I want a unit of 20) might get converted to shieldbearers.
-Gonna get me 20 pathfinders from AoW and convert one to Josef Bugman.
-I was thinking about scratch building a bolt thrower, but I'm not sure that's realistic.
-I'm doubting if Hammerers are better than Ironbreakers. They seem less tough, but I haven't played with them yet...
I'm curious what you guys think
Edited by Helblindi, 15 January 2017 - 08:48 PM.