Hey,
I've been following this forum for years as a lurker (specifically, RedZeke's excellent Relentless battle write-ups) but as a British ex-pat living in China, I've never had the ability to put together my own Dwarf army. After finally getting enough to scrunge up 1500pts worth of Dwarfs, I've played three games in the last week. The first, a combined Dwarf-HE 2500pt army vs. Skaven, was a victory, and the second (2000pts Dwarfs vs. Skaven) was also a victory, albeit a little closer and with some tactical blunders on my part.
This battle was an unknown factor for me in a game that I'm already not completely familiar with. Basically I knew that Wood Elves were shooty. Unfortunately my laptop had a low battery and I forgot my power cord, so I had to take the earlier 1250pt list from the allied HE battle, which wasn't exactly optimised. Then again, knowing next to nothing about my opponents, I'm not sure what 'optimised' would have meant.
My list:
Runesmith & General— Thorek Blacksteel (142 pts)
· Shield
· Armour runes: rune of stone, rune of preservation, blissful ignorance that his armour is useless against magic elf-lord arrows
· Talisman runes: MrO Balance, wishful thinking that he'll be all right without spellbreakers
Thane Alfginnar Skudsdottir, Thane & BSB (160pts)
· Armour runes: rune of preservation, MR of Gromril, impressive hatred of elves that will keep him alive until unofficial turn 9
· Talisman runes: rune of the furnace
· Weapon runes: rune of fire
Grudge-thrower (155 pts)
· Engineering runes— Ro penetrating (x2), Ro accuracy
· Engineer, re-roll misfires.
Skalf's Cleavers— 20xGW dwarf warriors (225pts)
· Full command, great weapons, Freudian desire to present their flanks to mounted elves
Snorri Skaldsson's Beardguard— 20x shield dwarf warriors (205pts)
· Full command, shields, unofficially unbreakable
Morin's quarrelers— 16x GW quarrelers (218pts)
· Wielding great weapons, musician, refusal to fire a full volley the whole game
·
Cannon (125pts)
· Engineering runes: rune of forging, myopic spotter, novelty foam cannonballs
His list off the top of my head:
Lord, some magic bow that let him fire four times per shooting phase, amulet of inveterate cowardice;
Spellsinger, lvl4(?), irritating refusal to get cannon-sniped;
20 Gladeguard, intense frustration with dwarven armour;
10 dryads, immunity to cannon;
5 fast cavalry, curious unwillingness to accept GW charges;
5 fast cavalry, situational regen-spell protection from grudge-rocks;
Great eagle, obviously going to eat my ludicrously unprotected cannon.
10 Waywatchers, paraphiliac attraction to trees
Here's how it looked after deployment. The cannon is up in a tower where its improved LOS will be useful only for making sure nobody can help when the eagle swoops in. The green circles are forests, the yellow lines are fences and the grey/brown bits are buildings.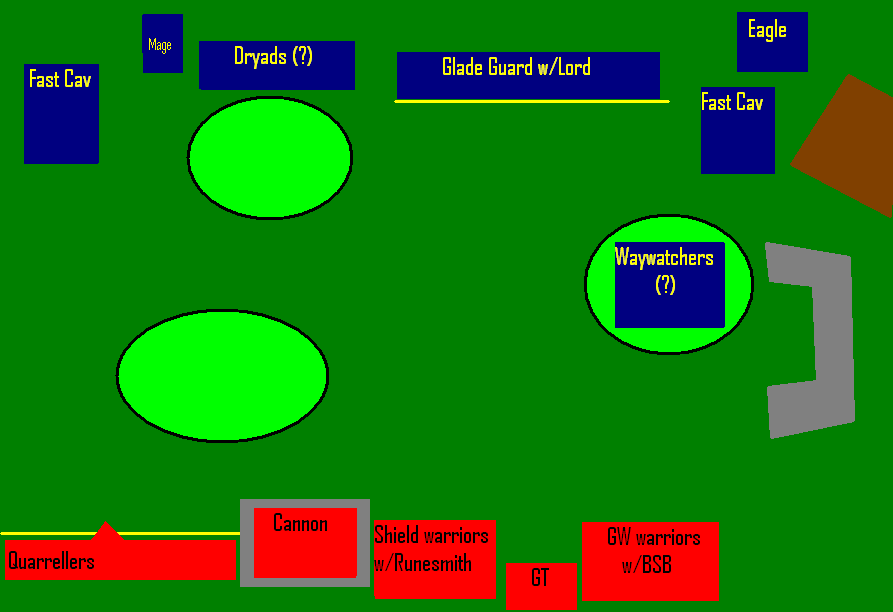 He won first turn, and declared he was abandoning his cowardly sit-and-shoot elven shenanigans in favour of glorious skin-on-skin melee combat.
Turn one
The fast cavalry on the right moves down behind the grey ruin, and end up sitting on the BSB unit's flank. The leftmost cavalry end up sitting in front of my grudge thrower, possibly mooning the GT crew as they do so. The eagle takes flight and inconsiderately parks up on the far side of the grey ruin, denying my war machines LOS. Waywatchers got dropped in the forest just off my lines during deployment.
In the magic phase, he psyches me out and cases regen on the fast cav in front of the GT and my warrior blocks. I let it through, anticipating a bigger problem with the next spell. He declares he's not casting anything else. I throw my 6 unused DD aside in disgust.
Shooting takes two dwarfs off the GW block, and that's it.
I wisely don't move in my movement phase. Unfortunately this wisdom will not last into later turns. With the only worthwhile phase being shooting, I get to that as quickly as possible. GT drops two fast cavalry from the central block (would have taken them all if it wasn't for that pesky, uncontested regen spell!). The cannon warms up its novelty act by overshooting the dryads, I think.
Turn Two
The eagle takes a risk and parks itself mid-field in front of the cannon, since he can't make the distance for the charge yet. Dryads move forward into the forest. Spellsinger comes around the forest to sit close to the dryads. Fast cavalry dance around, shooting ineffectual arrows at my blocks and trying to taunt a charge. Gladeguards move a little closer, coming out from behind their little fence. Pretty sure magic got shut down this phase. His shooting takes another GW warrior or two.
In my go, the cannon overshoots on the eagle (need to start aiming further back than 6", apparently) and skips into the dryads, hitting two. Both ward-save, and the cannon is still sitting pretty on 0 casualties caused.
The grudgethrower scores a direct hit on the gladeguard! The Lord passes his look out sir roll, but around sixteen of them bite it as the rock obliterates them. They fail their Ld10 panic roll and flee!
In movement, the GW warriors reposition slightly to charge-block the fast cavalry on the flank and potentially charge them next turn. A decent roll will take them off the board if they try to flee.
Turn Three
The eagle charges my juicily isolated cannon. Fast cavalry keep dancing around, and shooting whittles me down very, very slowly. Lord and remaining gladeguard rally and cower behind their fence again. Magic is shut down again without too much incident.
In combat, the eagle kills one of my crew, but takes a wound in return. The crew hold.
The GW warriors charge the flanking fast cavalry. They skitter away predictably, and manage not to flee off the table! My GW's restrain and hold. The shield dwarfs, getting frustrated by the shooty elf scum hanging back and taking potshots (who the hell does that?) decide that it would be awesome if 3" movement dwarfs start trying to take the fight to 5" movement elves. I forget where his other cavalry are, but I'm sure they ran away somewhere. Quarrellers leap the fence and advance up the left flank. They might actually be able to shoot next turn!
Turn four
The eagle finishes the cannon off, but receives another wound, which is something, I guess(?). The mid-field fast cavalry gets a charge off on my GT. Dryads charge the shield dwarfs. Shooting continues to whittle away at the GW's, who are currently hanging out with their Johnsons swinging in the wind on the right flank. Quarrellers inch forward, hoping to be of some use sometime after turn eight.
The runesmith smashes one of the dryads, but all my shield warriors whiff for zero wounds. The dryads take three of the shield warriors in reply, but they're steadfast and hold.
Turn five
The eagle rear-charges my beleaguered shield warriors. The GT crew kill one of the stupid annoying fast cavalry, but they kill one in return. Quarrellers mince around generally not helping anyone out, not certainly the now-desperate shield block in the middle. GW warriors stupidly do not reform to face the main combat in the middle, but instead play charades with the flanking fast cavalry. The elf mage gets off a spell that gives each dryad an additional attack. Things do not look good...
The shield warriors take one dryad out, and the stupid wooden dryads learn the toughness of proper Dwarven steel as their extra attacks fail to take more than two or three dwarfs in return. The eagle fails to wound. Combat is lost by around four and the BSB is busy miming 'one flew over the cuckoo's nest' to the fast cavalry champ about 15" away, so it's a single-roll Ld5 break test.
I roll a 4! Huzzah! Shield warriors hold against the dryads and their pal, back-door buzzard.
Turn six
The GT crew break the single remaining fast cavalry elf attacking them, but have, in the meantime, been hit by the other fast cavalry unit, whose champion successfully guessed 'one flew over the cuckoo's nest', linked Jack Nicholson to Kevin Bacon in three degrees, and decided it was time to get back to business. GT is wiped out in short order.
The quarrellers finally do something useful and flank-charge the dryads. The resultant combat sees him beaten by a couple, and the craven tree-people break and flee. Quarrellers pursue but their lil' stunty legs can't carry them far enough, and the shield dwarfs reform to face the eagle.
Result: no idea on VP's, but two destroyed war machines vs. not a single elf unit lost means defeat.
Basically, I screwed the pooch during deployment here. The quarrellers took the entire game to do anything remotely useful and the cannon was very poorly protected against the eagle (but that would have been fine if the damn thing would have hit it!). I then made the huge mistake of turning up to a dance-off with a wheelchair, as the elves ran circles around me with their superior speed. They had a tough time wearing me down, but my tactics simply sucked. The GW's didn't engage a single unit in combat the whole game, instead losing 11 of their number to repeated missile fire.
As an interesting post-script, we decided to carry on until one side was wiped out/broken. I foolishly decided to carry on the advance, and the dryads rallied behind the fence with the Lord. I spent another four turns getting destroyed by missile fire (once my quarrellers were in the mix, it turned out their light armour really, really sucked against close-range gladeguard bows). I eventually ended up with my runesmith and BSB as the two sole remaining models on the table, whilst he lost maybe two dryads to crossbow fire.
The highlight of the entire match (including the actual match) came when my BSB charged his lord and four remaining gladeguard. He took three wounds on the stand-and-shoot and, whilst I can't remember exactly why, his +1 armour save was on +4 to save the wounds. I managed to save all three, preserving his single wound, charged the unit and broke them! But then he died.
All in all, some lessons learned. I think I'll take a gyro next match to deal with their manoeuvrability, and definitely take the MRo Grungni for all that damn shooting.