Well as most of you know, as part of Carpe Noctem's affliation with Mantic Games, I agreed with them to review some of their products, namely their skeleton and ghoul units.
Now before I get along further, I would like to make one thing very clear. This is an unbiased review, as I advised Mantic Games when I agreed to it.
For the purposes of this review I will be comparing them to GW's equivalent, as most of us either have them or have seen them, and so provides a good basis for comparison.
Step One: Purchase
Obviously these costs relate to individual boxes from the manufacturers:
Mantic Skeleton Regiment – multi part plastic kit - 20 Models: £12.50 (includes command)
Mantic Skeleton Regiment – multi part plastic kit - 10 Models: £8.00 (does not include command)
Mantic Ghoul Troop – multi part plastic kit - £8.00
Games Workshop Skeleton Regiment - multi part plastic kit - 10 Models: £12.00 (includes command)
Games Workshop Skeleton Regiment (old edition) - multi part plastic kit - 5 Models: £5.00 (does not include command)
Games Workshop Crypt Ghouls - multi part plastic kit - 10 Models: £12.00
So for a start Mantic wins straight out. For an extra 50p you get double the amount of troops, plus there is the option for the skeletons to buy a smaller number, still for a very reasonable price. The question is, does the cost reflect the quality?
Packaging
At first glance the Mantic packages look superior, and it is an impression that stays the same as I open the boxes. The come in plastic cases similar to DVD, shrink wrapped. So good protection against water as well as bumps and knocks, and impressive when compared to the cardboard boxes by GW.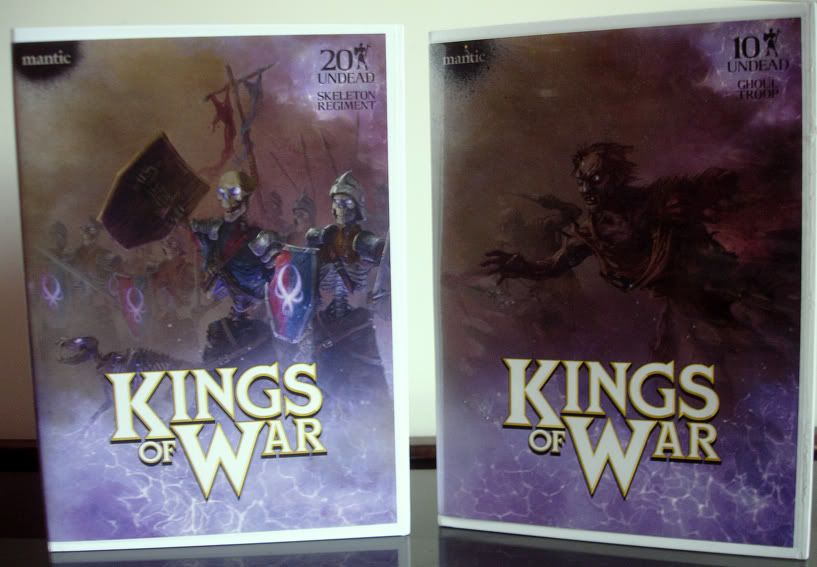 Open the boxes and another pleasant surprise to see that the sprues and nicely cushioned with foam, holding the sprues securely and limiting damaging by knocking. Something again missing from GW boxes.
So packaging wise, Mantic is vastly superior to GW, and it is quite possibly once the models are built to use the cases to securely transport your troops.
Inside the Box
So inside we have:
Skeletons
Foam Support
Skeletons: Two sprues consisting of one command sprue and one normal
Twenty Bases
Instruction Booklet
Three pages of transfer stickers for shields, banners etc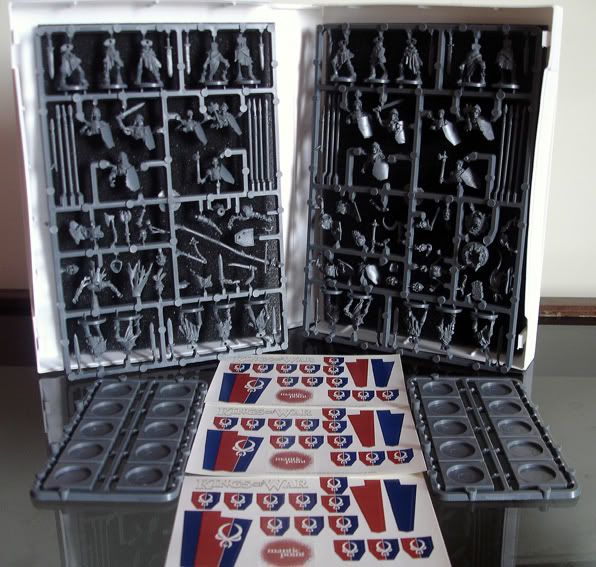 Ghouls
Foam Support
Skeletons: 5 sprues consisting of 2 Ghouls each
Ten Bases
Instruction Booklet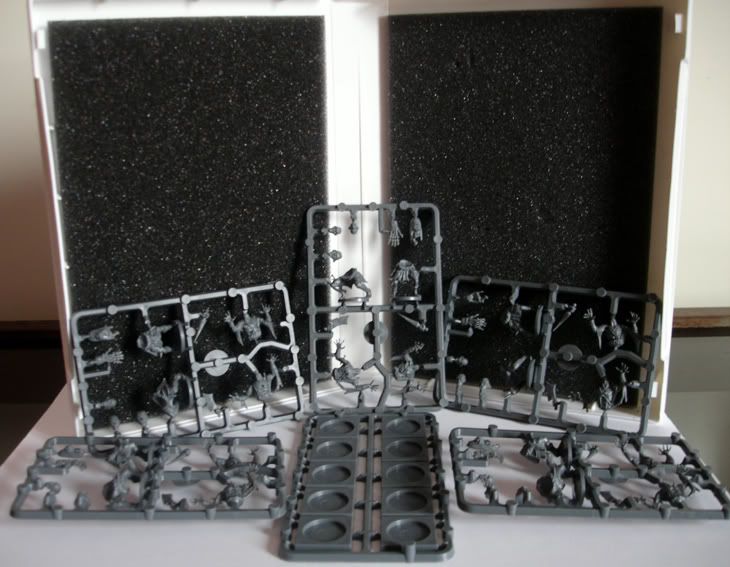 Apart from the foam, it is basically what you would expect, except for one thing: the instruction booklet. It is much better laid out that the GW with colour pictures, and even some fluff on the Mantic undead background: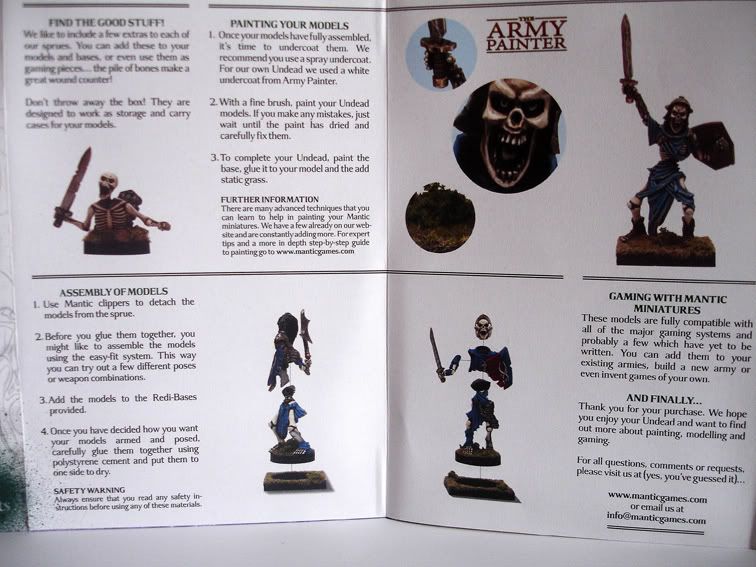 However it appears to be the same booklet for the Ghouls as well, which was confusing. Admittedly the Ghouls are straight forward, however I would have like to see a different booklet for the Ghouls. The one thing I did really like though, was that the booklet folded out into the following awesome poster:
Great thinking there, and one I hope Mantic continue with. If they could maybe have different prints for different booklets, I think it would be a nice features.
So inside the box is was pretty much what was expected, the only thing negative was the missing Ghoul instructions.
The Sprues
Now onto what I know most of you are interested in, the actual models. The sprues themselves mirror GW, similar layout, similar method (clippers) of taking off the models.
However when it comes to the actual models this is where things begin to greatly differ. There is a noticeable lack of extra heads and extra arms on the mantic sprues, and upon closer inspection it is clear that most of the models are designed with the arms already attached to the torsos, and with the skellies a lot of the heads are attached as well.
With the skeletons there is still quite a lot of variation, enough for the full unit of 20 to all look quite unique. However over that there is going to be repetition.
The ghouls were even more worrying, with each sprue having the same two bodies, though there were different heads and weapons options. Looking at it I figured you could get 10 different models, but different only just. For example one having a just a different weapon in his left hand, another just having a different head etc. So slight disappointment there, even with one more torso and legs that would have greatly expanded the opportunity to make more unique looking models.
Extras
Looking at the sprues, the skeletons do have some very nice extras. Lots of weapons, including spears. There are a few extra heads, but not loads, and a few things to go on the bases. The best by far has to be the two part skellie dog. It is far cuter than a dead dog would be and detailed to boot.
The Ghouls again is a bit of a let-down. Apart from the different weapon and heads there is nothing else. No guts to feed on, just what looks like to be a pouch that has a hand and a foot which can be stuck onto a ghouls leg.
Overall the choices on the sprues are different from GW. In regards to the skeletons I would not in any way say it was inferior, unless you like to have lots of spare arms and heads. It does have some bits and bats to get some extra bases (maybe an extra 5 or so), and I feel that it matches it's GW counterpart.
The Ghouls are disappointing in this category, with very little options or extras and so they are beaten by the GW one with loads of options.
Construction
Looking again at the skeleton sprues I was pleased to see a pin and hole feature for the skellies:
After clipping off the two parts I wanted it took two seconds to glue together. The slot held it securely and was made the whole process so much easier and fun. With the head and arms attached there were no fiddly little bits, and a dab of glue on the base and the model was done. Stupidly easy.
You can assemble pretty much all the skeleton regiment in this fashion, and have them fully constructed in about 10 mins. For me who gets wound up by tiny bits it was a godsend.
However this ease came at a price that the arms or head were already in place on most of the models, meaning they couldn't be posed easy. As they are plastic it is possible to twist or bend if you would like, but it is not as customizable as the GW ones. It is still possible to make a unit of 20 quite unique though.
As for the Ghouls, the unfortunately lacked the slot affair, but they were still quite easy to glue. The head/neck and waist/torso joints were rounded/dipped similar to GW, meaning they could have slight variations in pose, though not enough to break up the same bodies really.
When it came to the different weapons options on both sprues it took me a moment to figure out what I needed to do. To actually use them I had to clip/cut off the existing hand and weapon and then glue on the alternative. Whilst it may sound shocking after GW's options, to 90% of gamers out there it would be very simple, and still quite solid as long as you use plastic glue.
So rounding up….well it comes down to a matter of personal preference on this one. Frankly I am not too bothered about making sure that every single of my planned 100+ troops has an individual pose. For that many troops I want the models to be easy to fit together with minimal fuss, and in that regards Mantic wins hands down. You can easily have 50+ skellies assembled and ready to paint in an hour, and the Ghouls though a little more fiddly are still much more easier that GW's Ghouls.
Really when it comes to construction, GW only wins in this category if you like taking long and posing all your models.
Quality and Detail
Put quite simply both Skeletons and Ghouls are of a high quality, easily matching GW's models. I wouldn't say they surpass them but they do equal them. Considering the vast cost difference in the two this is surprising to say the least (and in my mind questions GW's prices). All of mantic models of lovely little details, belts, individual ribs, individual teeth, and so I cannot fault them in anyway in this regard.
They do of course have mold lines, but these are exactly the same as GW's and so can't be marked down for it.
Size
The Skeletons do stand a bit taller than the current VC models, taller than both GW's skellies and Grave Guard: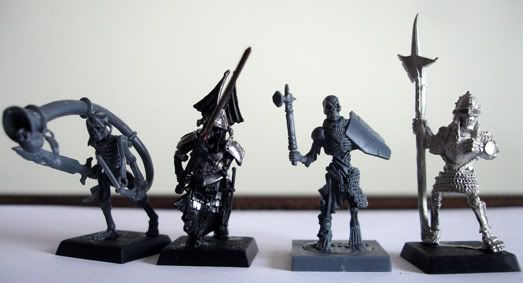 However this is because Mantics skellies are standing up straight, unlike the (annoying in my mind) stepping forward motions of the current skellies. For us oldies, they compare very well to the old Undead Skeleton models, as can be seen in the above pic.
The Mantic Ghouls again stand taller, (well the standing one does anyway
) that GW's hunched over Ghouls, but personally I think they look better for it
So size wise, no issues at all with the current GW range, you should be fine having a unit of these in your army.
Design
A more difficult category, as of course this really depends of opinion. The best I can do here is offer mine:
The skeletons are a great design. I wasn't sure when I first saw them a few months ago, but they have grown on me. More upright, to me they look more menacing, more characterful that the current GW models. I think this is because they are actually similar to the old Undead Skeletons, both size wise, and the fact the skeletons have expressions (evil eyes etc). The armour and weapons look good, and quite importantly they look like a regiment, unlike the GW models which can look a bit rag tag with different shields etc.
As far as I am concerned, even though there are only two bodies, the Mantic Ghouls wipe the ground with GWs. They look the part as insane men who want to eat flesh, and……well are just better.
Final Decision
Skeletons
As far as I am concerned, Mantic Skeletons are pretty much superior to GW's offering. For half the cost you get models that are as every bit as detailed, easier to construct, and look just as good. The only reason not to get them is if you really want to adjust every arm and head on your skeletons. If not I would recommend these as a better choice, and as far as I am concerned, I will actually be getting the rest of my Skeletons from Mantic
Ghouls
The Ghouls were a bit of a disappointment in some regards. The limited bodies and options is something that I think Mantic needs to perhaps address. As mentioned having even just one more torso and leg option would really help, and throw a couple of extra things in like gnawed bones or guts etc.
However I have to say the design on them is great, the (two) poses to look very well, and they are very well detailed and designed. Coupled with a very low cost again, and it's a difficult decision. If presented with the choice I would go for the Mantic Ghouls, as they do look so much better. I would perhaps have to do some conversion for more poses.
If you don't mind the limitations on the Ghouls, in that case there should be nothing stopping you.
So in wrapping up, Mantic has produced some superb alternatives, which in many ways are superior to Games Workshops. I can only wait in anticipation for the Mounted Revenants, and keep my fingers crossed they want me to review them as well (hint hint
)
View the full article