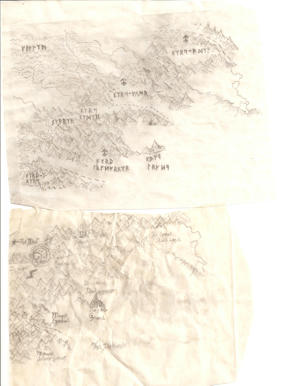 The Great Hold of Kazad-Grund
Name:Kazad-Grund

Lies: at the east edge the Rib Peaks next to the the Desolation of Drakenmoor

King: Throndin Ironbeard

Population: About 6.000 dwarfs and 1.300 halflings.
The Dwarf hold Kazad-Grund (or the hammer fort as a manling would say) lies far out in the Rib Peaks. It got itīs name from a stoneformation that resembles a hammer, The Duraz-Grund (Hammer rock) can be found within an hours walk from the hold. In Kazad-Grund there lives both Dwarfs and Halflings, this has created a few traditions that can be seen as untraditional or even mad by other dwarfs, this includes their famous goblinsoup and the great farmlands outside the hold. Becouse of those farmlands the hold is sometimes called the farming hold by outsiders...something the people of Kazad-Grund (both halflings and Dwarfs) dislikes. The current king of the hold is Throndin Ironbeard and his queen is Borgomina Silverhair.
Edit...This should give a better version of the picture for download
http://www.mediafire...i...tr2&thumb=4
, I will try to add the history too but there are many handwritten papers to get into the machine before I can post them.
Edited by Founder of Kazad-Grund, 20 March 2009 - 02:10 PM.