Alamo GT 2008. San Antonio TX. 80? players.
Dwarf Army List
:
Runelord, Anvil of Doom, great weapon, shield
Spellbreaker, Preservation, Stone, Resistance
Thain, BSB
MRoGromril, Preservation, MRoChallenge, Furnace, Fire
Thain (general), shield
MRoSwiftness, Fury, Cleaving, Stone
20 warriors, shields, banner, musician
23 Longbeards, shields, full command
Battle, Stoicism
10 crossbows, shields
20 Hammerers, shields, full command
Stoicism
10 Miners, champion, steam drill
bolt thrower, engineer
Penetrating
bolt thrower, engineer
Burning
Stone Thrower, engineer
Accuracy, Penetrating, Burning
Organ Gun
2247 total
Whatever the other circumstances, the bottom of the pictures is usually SOUTH
Friday Night - Jordan Braun, Skaven
Jordan brought an incredible looking Skaven army that I gave my Players Choice vote. I thought perhaps some other armies were better modelled or better painted, but my standard is "I want to take it home" and that isn't true of any Daemon armies. Turns out the paint judges (which included at least two high experts on painting) thought Jordan's army was extremely well done and gave it Best Painted.
If you don't recognize the name, Jordan Braun won the GW Circuit last year and the 'Ardboyz this year. In other words, he's really good and capable of power gaming with the best of them. Yet every Indy GT I've seen him at this year he has been running an older army book, with no sign of Daemons and VC. I don't know the exact reasons, but I certainly appreciate it.
Grey Seer (skitterleap, warp lightning, vermintide, death frenzy)
engineer
BSB
assassin
3 clanrat blocks with rattlings
3 slaves
stormvermin
3x2 globadiers
7 tunnellers
6 Jezzails
DoW Giant
warp lightning cannon
I put my crossbows on a hill first, then leave them to their fate. My army goes behind a pond to protect my guns. Hammerers on the open flank, bolt thrower, Longbeards, Organ Gun, Stone Thrower, Warriors, bolt thrower on table edge. Both characters join the all-important Stone Thrower.
His Jezzails go in woods, Giant behind them. Seer and BSB in Stormvermin, other troops spread out as usual. Tunnel markers goes in the pond.
Dwarf deployment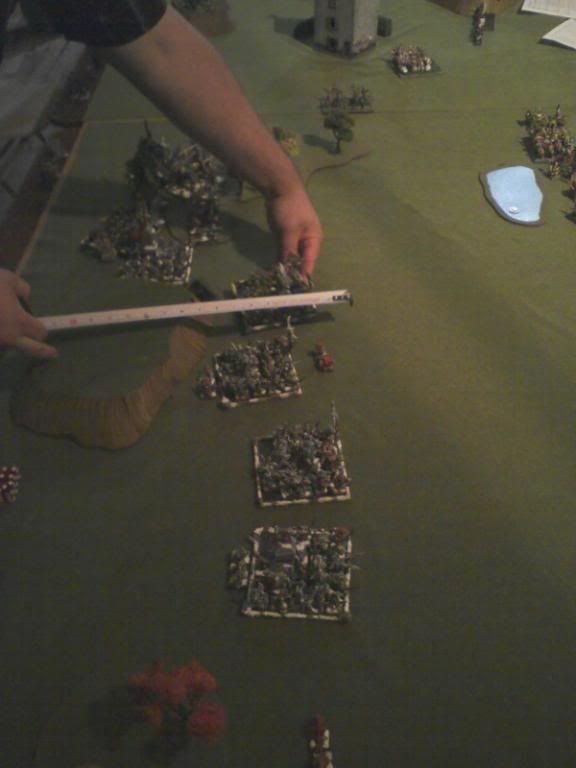 Skaven start moving
Turn 1
He wins the first turn and moves up. His engineer is rude to my Organ Gun and kills two of the crew. His Grey Seer is almost even more rude, but the IF warp lightning is 25 inches away. Jordan skitterleaps his assassin to the table edge past my bolt thrower and his throwing stars do 2 wounds to the machine.
Jordan noticed I made a huge mistake in deployment. His cannon has a shot through both my characters, with no "look out sir". But instead the cannon blows up. I assure Jordan getting those out of the way is why we play on Friday night.
My BSB moves to the warriors, who advance a couple inches. You'll see why in a minute.
Stone thrower misses Jezzails, Anvil fails to wound them, Organ Gun and bolt throwers pound on the clanrat unit with the engineer. But the Skaven pass panic. Crossbows kill a rattling.
end of Dwarf turn 1
Turn 2
Having walked forward of my own bolt thrower, the Skaven assassin can now see my warriors. And be the target of MRoChallenge.
I didn't like using the rune on that assassin, but I felt the bolt thrower was needed to kill the giant.
Tunnellers pop up and kill the Organ Gun. They don't overrun far enough to reach the anvil though.
Army advances, giant moving out in front on the table edge.
Magic kills some Hammerers, Jezzails wound the stone thrower.
Assassin kills 2 warriors and breaks off the table.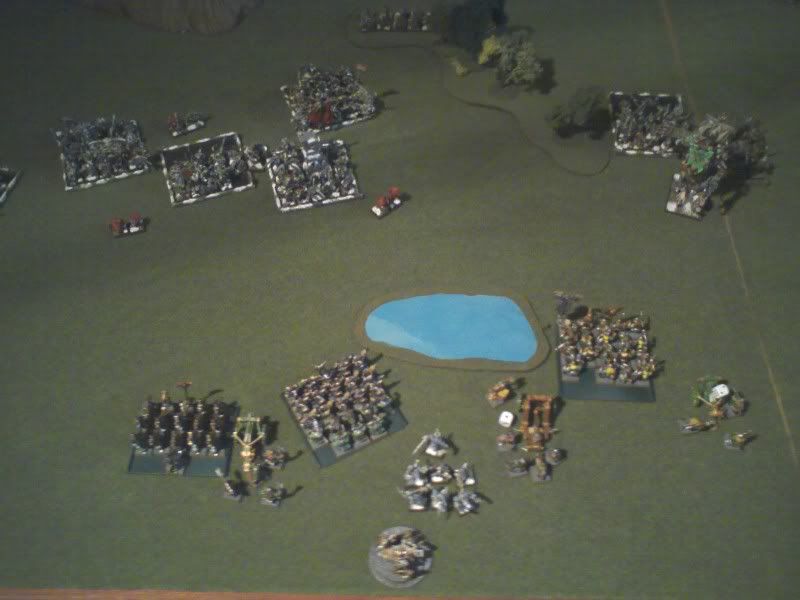 end of Skaven turn 2
My general charges his tunnellers.
BSB leaves the warriors to head to the Longbeards.
Crossbows kill another rattling. Artillery fails to kill the Giant, so the Anvil hits it to prevent the charge.
sorry, no more pictures
Crossbows' Tale
After killing a rattling gun on each of the first turn, my crossbows are charged by a healthy unit of slaves. I have a rank, he has 3 ranks and numbers, so he is up by static 3. I make saves, kill a couple slaves and hold. And repeat the next turn. And the next one. And so on.
By the end of the game, only one crossbow has been killed in close combat. My crossbows have killed half the slave unit (at least 12) and passed EIGHT consecutive break tests. With no BSB.
Main fight
Slowing the Giant with the Anvil was the right move. I pass the terror tests, then the artillery drops it turn 3. Stone Thrower smashes another clanrat block and hurts the stormvermin a bit while my troops advance. His wizards run to the last healthy clanrat unit before the stormvermin engage. Miners show up behind his army and attract some shooting and magic attention. They don't accomplish anything else, but that isn't useless.
My general takes 3 rounds of combat to kill the tunnel team and gets wounded along the way. He then dies to one of those pairs of globadiers.
Slaves and frenzied slaves engage my warriors. I eventually fail the break test and get run down. Those slaves take out the bolt thrower and stone thrower.
Jordan discovers, to his displeasure, that my Longbeards with BSB carry more static combat resolution than his Stormvermin. Plus I fight better. The skaven trip and are run down by the Longbeards.
My Hammerers get magiced to half, then flanked by injured clanrats. I failed to use great weapons when I should have, so I'm not able to kill enough to beat them off. (he has flank and rank, I have numbers).
As we hit turn 6, his wizards are in an injured clanrat unit that cannot move far enough to avoid an anvil-driven Longbeard charge and certain doom. So the wizards abandon the unit and it angles so pursuit will not hit the characters. Instead my Longbeards are anvil'd into the rear of the unit fighting the Hammerers. The rats obviously break, which panics the other clanrat unit. Testing on just a 7, they fail and now flee through both characters. Who also both fail panic. Might have been a draw if all those pass panic, but losing all that meant a clear Dwarf victory.
Game 1 - Jody Tucker, Daemons
Look at this army.
No, that isn't paint. There are actually
lights in every model
, powered by watch batteries. The Horrors are entirely light things, the Plaguebearers have lights for heads, the Flamers are throwing lit up fireballs, the Flesh Hounds are breathing fire. It's crazy!! It's also awesome and visible from across the room. Jody didn't have any trouble winning Player's Choice.
The list
:
Khorne Herald on jugger, Firestorm, 0+ armour
Nurgle Herald on Palaquin, BSB, Hellfire Banner, Noxcious Vapours, Slime Trail
Tzeentch Herald on Disk, shooting attack, scroll
Tzeentch Herald on foot, shooting attack, scroll
19 Horrors
16 Plaguebearers
10 Horrors
10 Horrors
2x5 Flesh Hounds
2x3 Flamers
6 Furies
He has 10 power dice plus the bound spell from h*ll, but its all lore of Tzeentch and with no big caster. His Heralds get one Firestorm, but his magic phase is really just the number 1 spell. So its a legit magic phase, but not an army-destroying magic phase.
I quickly thank Jody for bringing a friendly Daemon list. It isn't going to run me over or blast me off the table. Just to repeat, thank you Jody for bringing a Daemon list that doesn't make me cower in the corner and twitch uncontrollably. But it's still Daemons, and thus extremely hard to kill and even harder to defeat.
Deployment
My table side is WEST
From north to South, he puts Flesh Hounds with general, Flamers and Furies, both little Horrors, Plaguebearers, big Horrors with character, Flesh Hounds, Disk.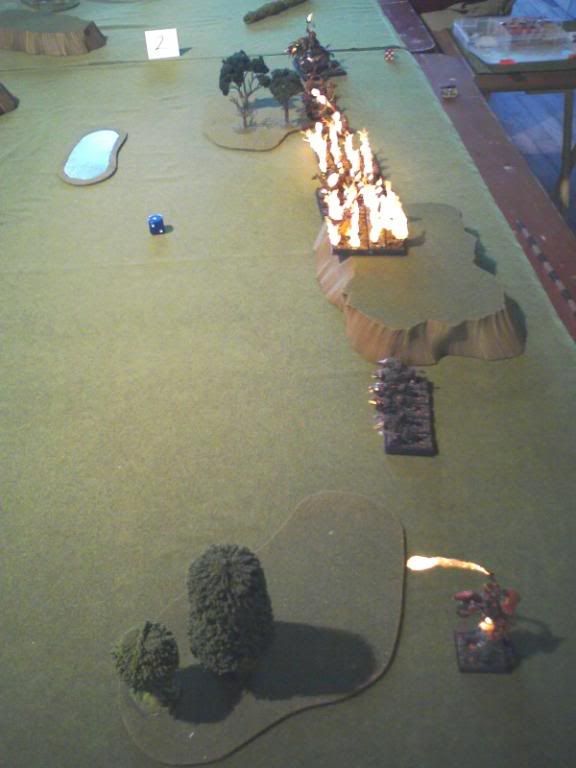 I put crossbows on a hill to the north first. They will probably get killed, but anything killing them should be out of position for getting more of my stuff. Flaming bolt squeezes in behind that hill, with limited LOS to the center (it cannot be seen from due east) and safe from an overrun of crossbows. Going south, Hammerers, Organ Gun, Longbeards with BSB, Stone Thrower, warriors with general. Anvil goes behind the building, S7 bolt goes way out on the south table edge.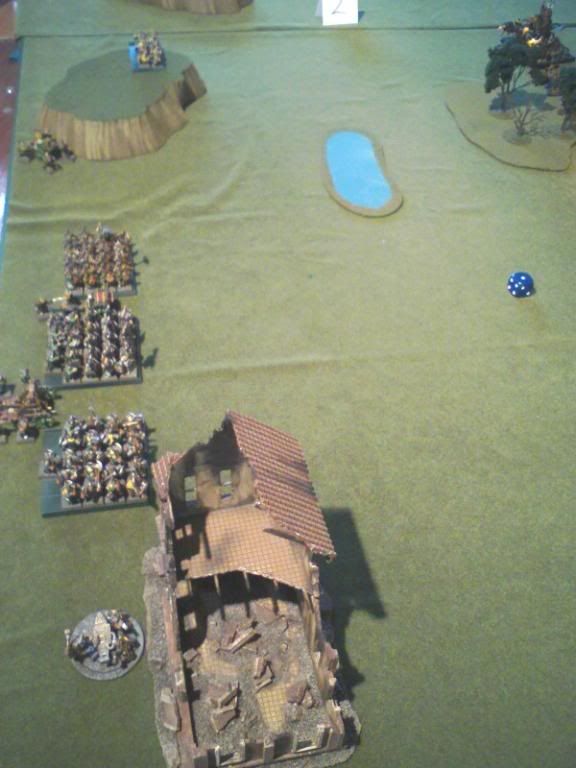 the building was designated very difficult terrain that blocks LOS
Turn 1
Scaring me considerably, he wins the first turn and advances. He rolls IF for Tzeentchs Firestorm on my warriors, but produces just 3 hits, 2 wounds and then I roll double 6s for armour saves. Apparently the Herald only thought he has cast the spell. Flickering Fire is out of range.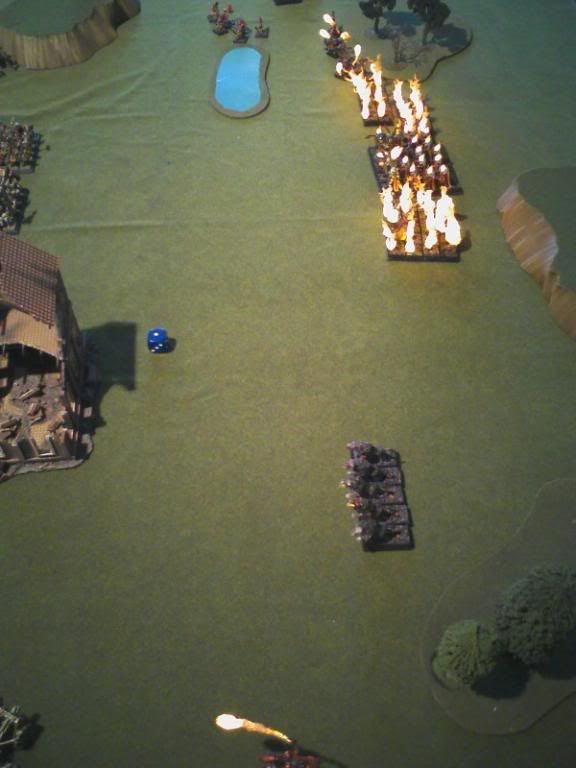 Deploying backed worked for one magic phase, but now I need something else. Only thing I've got is convincing him to shoot warriors, so forward they go. The general intelligently joins the Longbeards instead.
Stone Thrower guesses accurately onto the Plaguebearers, but smartly scatters onto the Horrors and kills 4. Both bolt throwers miss. The bolt throwers will take 9 shots this game, most at short range, and miss every one.
Crossbows do incredibly, inflicting 3 unsaved wounds on north Flesh Hounds. Since 1 more Horror will remove a magic level, the Organ Gun shoots them and barely gets that one.
I really want to resist Ancient Power against a relatively friendly list, but given the situation, I cannot. The Anvil delivers and hits 3 units. I hit the southern Flesh Hounds, the Furies, and a Flamer unit (scenario points if my runelord kills a specific Flamer). The Furies cease to exist, the flesh hounds take TWELVE hits and lose 2 models, the flamers are not bothered. That really shows how tough Flesh Hounds are. 12 hits sounds like it should pound a unit that isn't heavy cavalry. But killing 2 is average so the 5 wounds I got were a doubly great roll.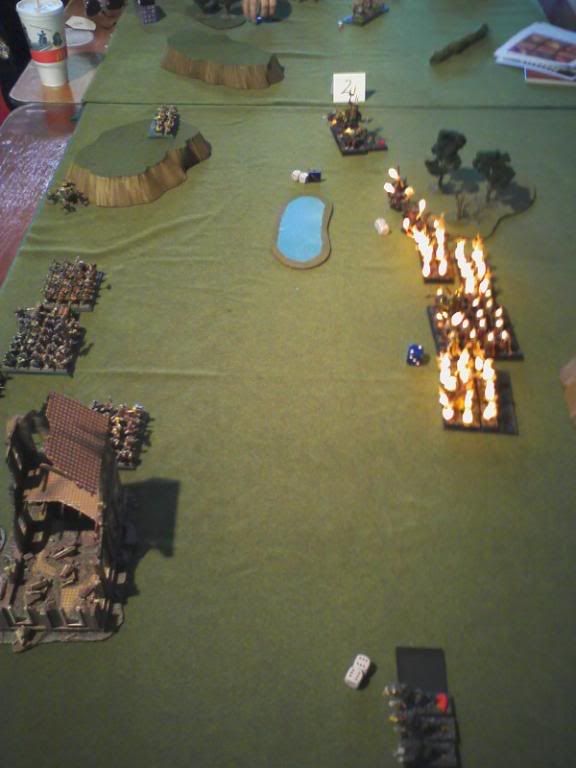 end of turn 1
Turn 2
Northern hounds charge my crossbows, who flee. Unhappily it's their turn to roll boxcars and they leave the table. At least the Flesh Hounds didn't get anywhere important.
The Disk stands in place to better shoot my bolt thrower while the rest of his army advances. Somewhat to my surprise, the southern flesh hounds head south towards the bolt thrower. I hadn't realized just how weak Tzeentch Heralds are in close combat. I knew the stats, but it hadn't registered until this point that his odds of killing my bolt thrower crew in close combat are pretty pitiful with just 3 strength 3 attacks total.
My warriors are doing their job, as they attract some of his magic. But it doesn't get off enough to really hurt. Hammerers lose a couple models.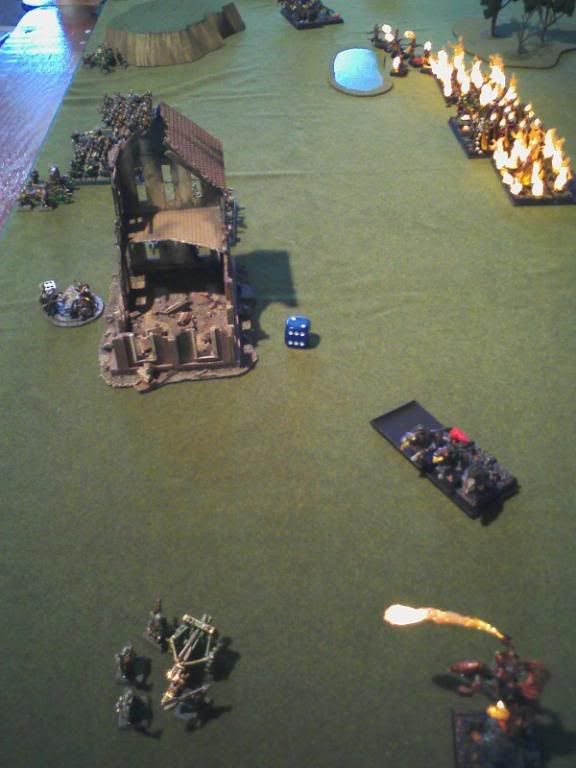 end Daemon turn 2
Miners arrive. I consider putting them to the north and trying to slow down the Flesh Hounds and Herald. But I've now realized how weak a Tzeentch Herald is, and that one is sitting near the south table edge. Also if I kill him and get a good overrun, I could flank the Flesh Hounds. So the Miners show up there and the Anvil sends them into combat.
My warriors move a bit further forward.
Stone thrower shoots at the Plaguebearers and squishes the rear rank. The Organ Gun decides the bolt throwers than never hit are really too good, so it will show the proper path to bad performance .... it blows up. In other words, all I've really got left is the Anvil and Stone Thrower.
Miners earn their spot in the list and kill the Tzeentch Herald, earning 185 pts. I'm winning! However, my Dwarf general yelled too loud to the army about running too quickly after the crossbows ran off the table. The Miners head his words and overrun 1 inch.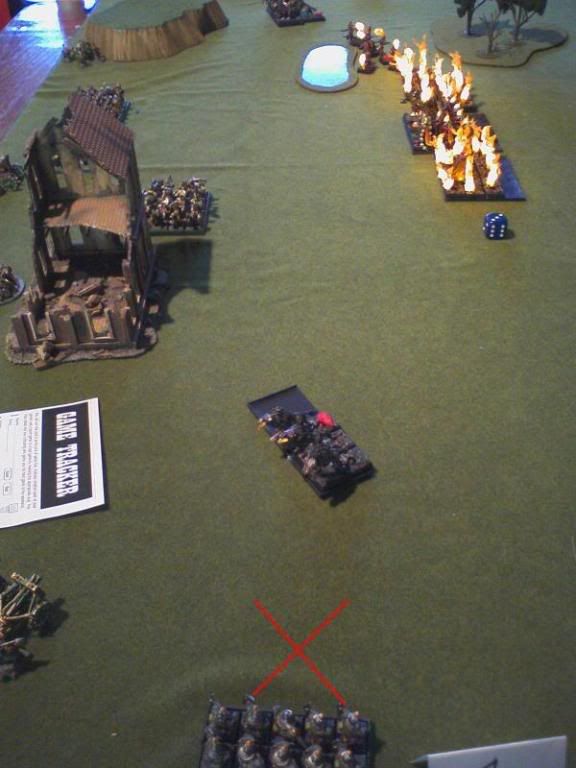 end Dwarf turn 2
Turn 3
Southern Flesh Hounds charge bolt thrower.
Wanting to make me divide my targets, especially the anvil, the Khorne general separates from his Flesh Hounds. He stands on the hill looking down at my bolt thrower. They angle more south to flank my main troops. His main line advances cautiously, although the big Horrors don't move.
The front small Horror unit miscasts and loses 4 models. Other magic and shooting knocks my warriors down to 15 and my Hammerers to an unpleasantly small 12.
Hounds only kill 2 bolt thrower crew. The survivors, clearly better fighters than shooters, wound a Hound, which takes out a model. Autobreak and Hounds overrun off the table.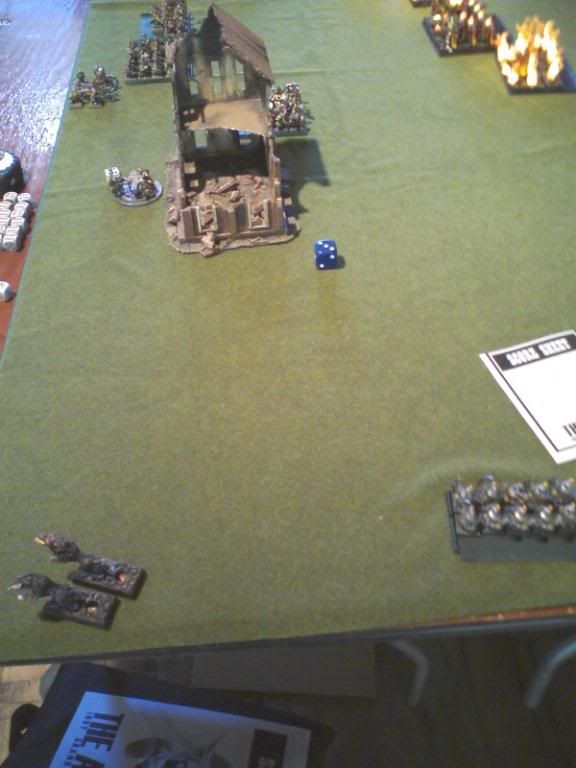 end of Daemon turn 3, south side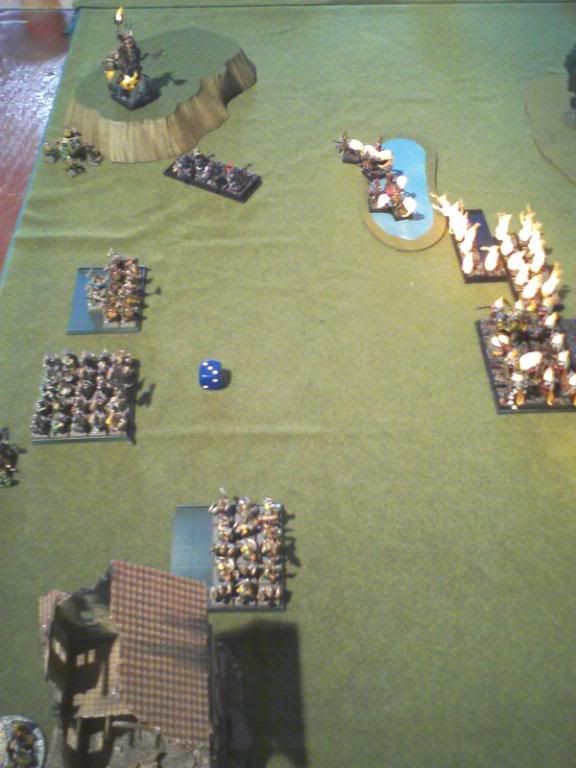 end of Daemon turn 3, north side
My shooting has not done enough at this point, but he has too many units for me to engage in close combat now. Not much choice but to sit and hope.
The Miners are too far away to reach his troops without serious anvil assistance, and the anvil has better things to do. They wander into the enemy deployment zone to claim a table quarter. Warriors wheel inward slightly, Hammerers reform to keep Flesh Hounds in their front. Longbeards walk forward a bit and my general shifts to the north side. The Flesh Hounds could charge the Longbeard flank, but my general should drop one before he swings (Hound already wounded) and I'm up static 3.
This may be my last chance to kill that 0+ armour Khorne Herald, so the Stone Thrower had better deliver. 23 inch guess is on his head and the rock turns him into daemon-paste. Yeah!!
Anvil tries to take out some Flamers but the one hit fails to wound.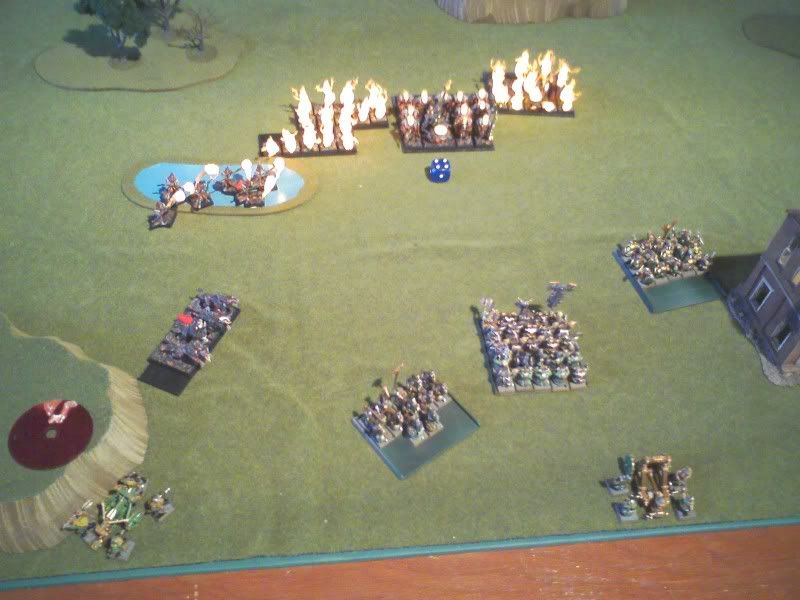 end Dwarf turn 3, emphasis on flattened Khorne Herald
Turn 4
His Flesh Hounds charge my Hammerers. Water slows his infantry advance.
Magic and shooting get another rank of warriors and 4 Longbeards. Longbeards still have +3 for ranks, so the warriors are doing their job.
Hounds only kill one Hammerer and combat resolution gets a Hound.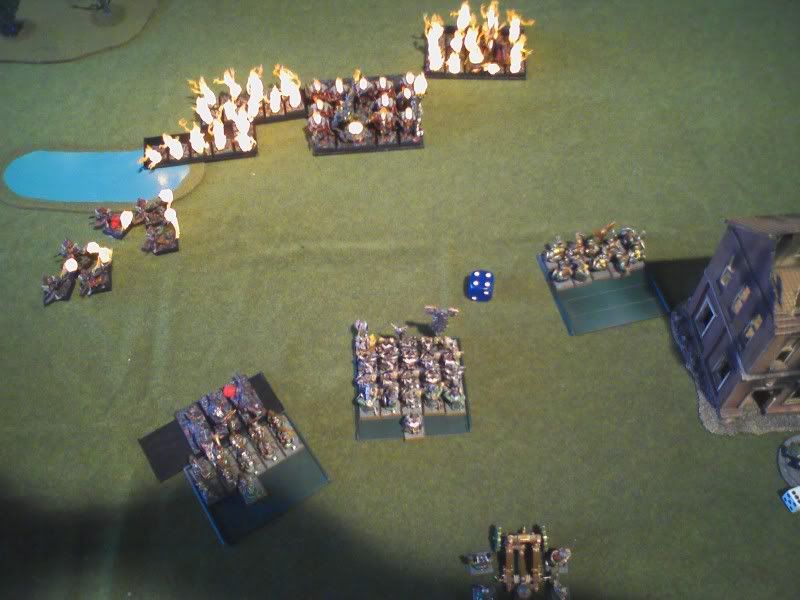 end Daemon turn 4
With my shooting almost gone, I have to get into combat before he blasts me apart. His nasty flanking units are gone, so that isn't complete suicide anymore either. Forward we go!
Stone Thrower misses. His shooting is kicking my rear, so the Anvil goes Ancient Power. It strikes successfully and again hits three units. Damage is unimpressive this time though, killing one flamer and wounding another, and knocking 3 wounds off the southern Hounds. One southern Hound remains, but half movement means he won't reach my stone thrower before the end.
Two Hammerers fall to Flesh Hounds, but my attacks back and combat resolution wipe out the remaining three. Success!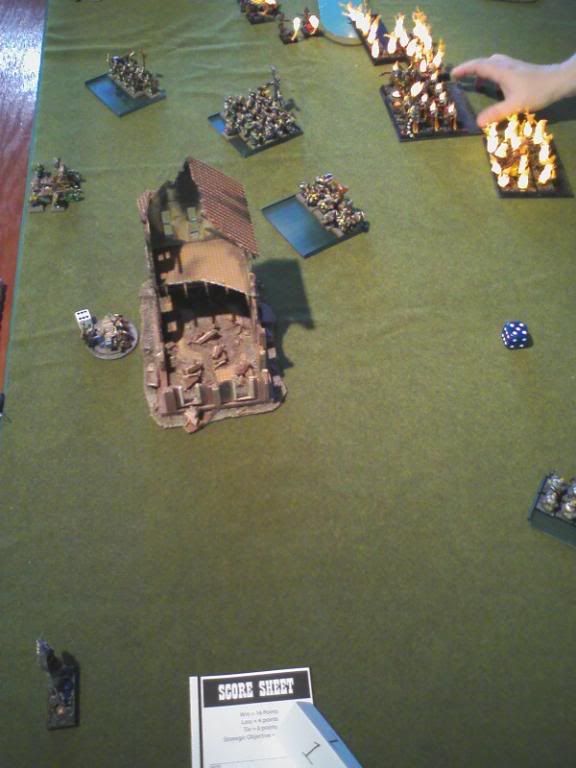 end Dwarf turn 4
Turn 5
He wants nothing to do with my advance and backs up the infantry slightly. Flamers focus on the bolt thrower, killing the engineer. Other shooting and magic reduce the warriors to 9, Hammerers to 8, and the Longbeards get squared off with no more buffer on their +3 ranks.
end Daemon turn 5
I think he has made a mistake when backing up last turn. The front Horrors are just size 6 from an earlier miscast, so I think my Longbeards can blow through them. Overrun into the Horrors behind will get me out of LOS from the Plaguebearers. The game is close now and I think 250 pts of Horrors will give me a win. So the Longbeards move forward, careful to keep Plaguebearers in my front in case the anvil charge fails. Warriors move up to keep big Horrors from involving themself with my Longbeards. Hammerers move towards Flamers to give me a turn 6 option.
Stone Thrower takes out another couple of Plagubearers, including the champion. The Anvil charge works!
Close combat goes as I expected, with the Horrors wiped out for no loss. But my Longbeards overrun only 3 inches. Not enough.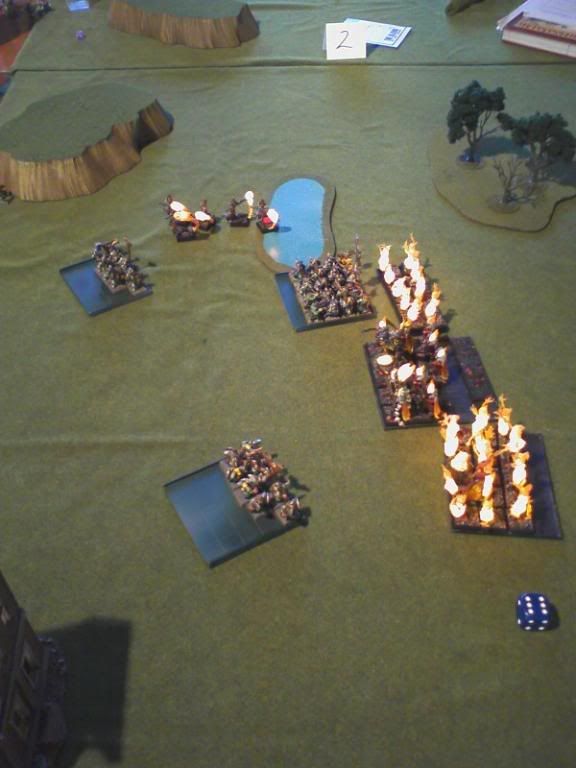 end Dwarf turn 5
End Game
Plaguebearers flank charge my Longbeards. Since I have the bottom of 6, I consider fleeing and he throws the Horrors in my front before I can decide. That can only help me, so I take the charge.
His magic and shooting kill more warriors and Hammerers, but both survive and were below half already anyway.
My Thain hefts his 70 pt runic weapon and finally does something useful with it, slaying 2 Horrors. Eager to try out his flaming weapon, my BSB challenges and his BSB has no choice but to accept. The immune to poison part of Preservation comes into play and I take no damage. But I cannot wound his T5 in return either. The troops swing at each other, but the net affect of the first round of combat is little.
The second round my general gets really good and kills THREE Horrors. Aim improved the other direction as well, as his BSB puts three wounds on mine. But Dwarf runes are good, and MRoGromril saves two of them. I swing back for one hit, but it wounds and he fails the ward save! 5 pt runic weapon earns 163 pts for half a Daemon BSB!!! I kill more Horrors, but even after combat resolution, one survives.
Dwarf losses
:
crossbows, bolt thrower, organ gun
half warriors, half hammerers, half BSB
Daemon losses
:
little horrors, one flesh hound unit, furies
Herald on Disk, Khorne general
half hounds, half little horrors, half BSB
and the Dwarfs control a table quarter
VICTORY FOR THE DWARFS!
I beat the Daemons!
I made no mistakes and the Anvil did perfectly. 2 Ancient Power for max units hit, 4 regular power. I also passed every leadership test. The Organ Gun and bolt throwers stunk, but the crossbows did great with their one shot and the Stone Thrower absolutely rocked.
Game 2 - Matt Feinbaum, Empire
Popemobile
level 2 wizard mounted with Outriders
warrior priest on foot
BSB with Griffon banner
swordsmen block with halberdiers and archers
spearmen block with halberdiers and archers
5 knights, full command
5 knights, full command
5 pistoliers
5 pistoliers
5 outriders
great cannon
DoW Giant
Bronzino with one galloper gun
Scenario is to gain wounds on a pinata that starts in the middle of the table. Every time you wound it, it moves away from the source of wounds. It is Toughness 6.
My army is deployed on the EAST side. Light shining in the windows means the pictures aren't so good this time. I also didn't take that many pictures, so this report won't say as much.
Table has hills in the middle of both deployment zones. I put my crossbows up there with Hammerers adjacent. I'm trying to figure out where his cannon will go before I drop my artillery. He doesn't oblige, but it becomes clear it will go somewhat north. My Organ Gun hides behind and south of my hill, my Stone Thrower between and behind other infantry. Flaming bolt thrower hides behind a big building to the north, S7 just outside woods to the south. Anvil goes behind the hill.
On his side, he dropped an infantry block and detachments south of his hill early. This limited his deployment space greatly. Combined with Outriders taking up most of his hill, I figured his cannon was going north. It did, along with giant, knights and pistoliers. Other pistoliers and knights went far north, beyond the forest. Popemobile and other block went south of the hill and bronzino took the southern table edge. He spread out across the table, but in clumps.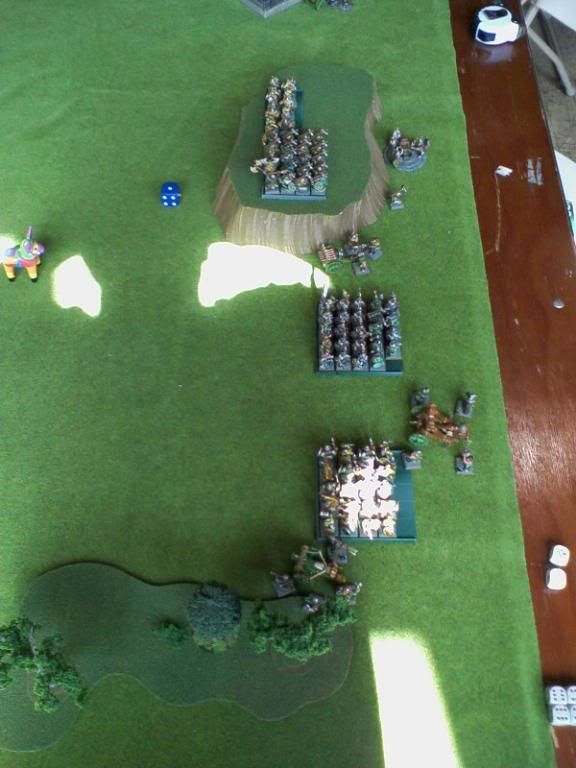 Dwarf deployment
Turn 1
I win the first turn and gladly take it. With the cannon position known, the Organ Gun moves up while staying behind the hill.
I think his deployment makes for many nice shooting targets. Stone thrower shoots at Giant. There is so much around, any scatter that isn't short will hit something else. My guess is an inch short and it kills one pistolier only. Crossbows roll well and kill the other 4. Popemobile makes ward save against S7. Anvil hits northern pistoliers, killing just 1. So I didn't panic them, but I did cause 3 panic tests from wiping out the center pistoliers. With no pope nearby, the great cannon fails and so do the Outriders. Cannon crew fails to rally and is gone. Outriders should flee through his entire line and end up in Bronzino's face, but after having to point out they go south at all, I accept his semi-random final position in front of his other troops.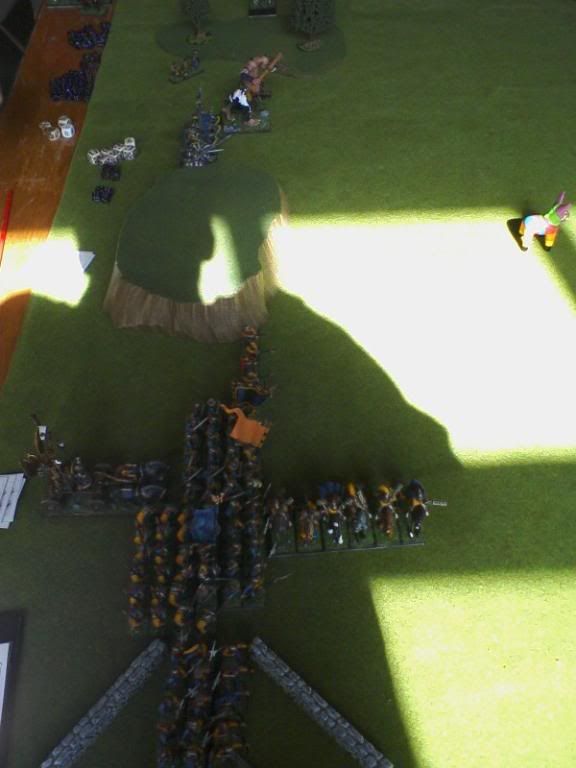 The Empire starts running
Outriders rally. He moves up, although they block his infantry. Bronzino shoots at the Organ Gun and does 2 wounds to it.
Turn 2
My miners arrive. Anvil sends them into Bronzino. He doesn't die and holds.
Hammerers move up a bit.
Stone Thrower and bolt thrower kill giant, squashing a knight for free. S7 gets the Popemobile. Crossbows wipe out other pistoliers, paniccing northern knights.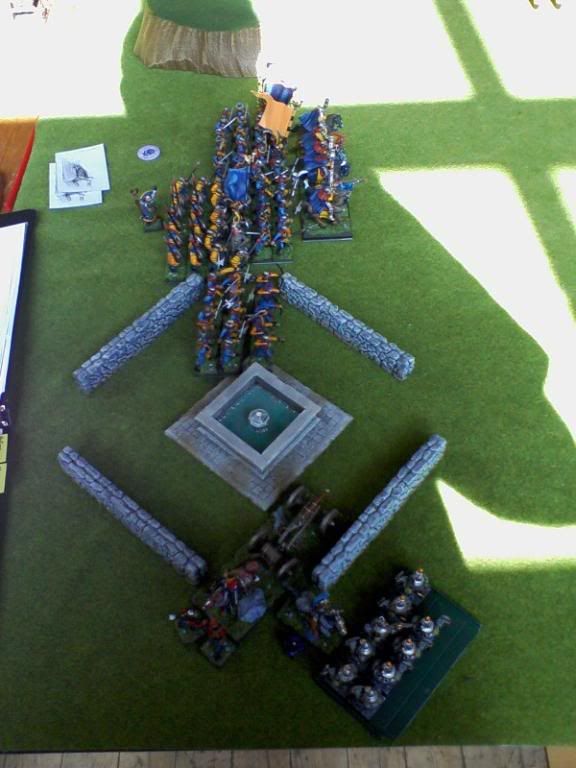 The Miners arrive
Outriders head over to shoot at Miners once Bronzino dies. The gun moves away. His army moves up, drops a few Dwarfs. Miners kill Bronzino.
More smashing
While the right bolt thrower and crossbows acquire scenario points shooting the pinata, the stone thrower, Organ gun and S7 mush his infantry. I beat up the Griffon banner unit somewhat, then drop a rock on the Pope's head. He fails 'look out sir' and dies.
Outriders shoot up the Miners, but they kill the galloper gun.
Crossbows kill a knight. Knights charge and lose one on stand-and-shoot, leaving just 2. They whiff in close combat and fail an armour save. So three 1s for armour saves in a row. The last knight breaks.
The remnants of his army bravely advance on the Dwarfs. The Griffon banner unit is well depleted, but my Hammerers flank it anyway. Longbeards in front and warriors into their detachment, so that unit gets crushed. Which panics the other infantry block unit and he surrenders.
I clearly had very good luck here. The failed panic tests were crazy. But I think I had an advantage from his deployment anyway. Too many concentrated shooting targets, a couple fast units that weren't near my artillery, lots deployed away from his general. Nothing was in position go around the south side and I had Hammerers to stubbornly hold the north while I ran over his infantry. Plus a Griffon banner unit with no buffer rank, since they deployed 6 wide and 4 deep! Finally he didn't expect I could kill his Giant so easily, while I was slightly disappointed it survived turn 1.
Overall a game I expected to win, but I would prefer to win in a more challenging fashion. Instead dice turned it into a slaughter.
VICTORY FOR THE DWARFS!
I hurt the pinata, so I also claim the objective.
Edited by David L, 15 November 2008 - 06:50 AM.